Kit Harington Enters Rehab Following End Of 'Game Of Thrones'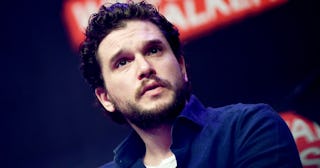 Britta Pedersen/picture alliance/Getty
Kit Harington checked into rehab following the end of Game of Thrones
Game of Thrones is officially over and Kit Harington is using his time post-show to take care of his health. The actor reportedly checked into a rehab several weeks ago and we're keeping our fingers crossed that he's doing okay.
Harington's publicist made a brief statement to explain the actor's recent decision. "Kit has decided to utilize this break in his schedule as an opportunity to spend some time at a wellness retreat to work on some personal issues," a representative told Reuters. According to a report from Page Six, those issues are related to stress, exhaustion, and alcohol.
The newspaper also added that Harington is undergoing psychological coaching, practicing mindful meditation, and is receiving cognitive behavioral therapy.
Harington has been open about the difficult toll that the Game of Thrones fame and attention has had on his well-being. As people's interest in Jon Snow skyrocketed, so did all of his own inner struggles.
"It wasn't a very good time in my life," he told Variety. "I felt I had to feel that I was the most fortunate person in the world, when actually, I felt very vulnerable. I had a shaky time in my life around there — like I think a lot of people do in their 20s. That was a time when I started therapy, and started talking to people. I had felt very unsafe, and I wasn't talking to anyone. I had to feel very grateful for what I have, but I felt incredibly concerned about whether I could even f*ing act."
He added that the infamous moment when Jon Snow came back to life added a whole new layer of pressure. The sudden focus on him became "f*cking terrifying," he recalled. The show was at the height of its popularity and people were yelling at him on the street, asking if he was dead. "All of your neuroses — and I'm as neurotic as any actor — get heightened with that level of focus," Harington said.
The more the series centered around his character's character, the more difficult it seemed to get for the actor.
"My darkest period was when the show seemed to become so much about Jon, when he died and came back," Harington recalled. "I really didn't like the focus of the whole show coming onto Jon — even though it was invalidating my problem about being the weak link because things were about Jon."
Here's hoping that Harington takes all the time he needs to feel better. We'll all be waiting on the other side, excited to see what roles he tackles next.
This article was originally published on