KitchenAid's 100th Anniversary Baby Blue Stand Mixer Is So Pretty It Hurts
by Cassandra Stone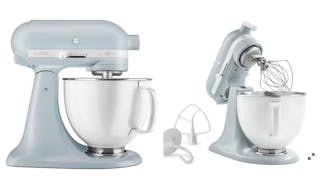 Image via KitchenAid.com
This adorable mixer will turn your eyes into literal hearts
Oh, KitchenAid. How we love you. In honor of the company's 100th anniversary, they've released a gorgeous new edition of the world's most beloved mixer. And it is pretty. Your countertop is practically begging for it already.
KitchenAid, which initially launched in 1919, has offered no shortage of their famous mixers available in a variety of different colors and patterns through the years. But this special centennial edition is, honestly, perfection. And it's only $319.99 on Amazon.
The shade is called "Misty Blue" and it's basically a design dream. You'd be hard-pressed to find a kitchen where this shade doesn't coordinate nicely. It's like, the prettiest neutral color you've ever seen this side of Chip and Joanna. Look at it. That could be your counter and freshly rolled up blueberry pastry thingie.
The color was inspired by one of the first KitchenAid Stand Mixer shades that first hit the market way back when. The soft blue also appears to contain hints of light green and grey, too. It's like the perfect combination of retro and modern, which just makes it all the more desirable.
Features for this anniversary edition mixer include a heritage-inspired KitchenAid logo (that retro feel is intentional), a white-coated stainless steel bowl, a custom Power Hub cover that celebrates the 100 year anniversary. The mixer has 10 speeds and a 5-quart capacity — which is great for baking up a storm or concocting family-size meals.
This stand mixer is practically begging to be the culinary center of your kitchen. There are 14 different attachments total, which means you can make everything from fresh pasta to burgers, veggie noodles, ice cream and more. And continue to keep in mind it's pure eye candy value.
Also? There's enough capacity in one of these babies to bake nine dozen cookies. NINE. DOZEN. If you love baking, this beaut will basically pay for itself around the holidays. If you don't love baking en masse, well, then, don't let your relatives know you've got one of these lying around.
You can also snag a retro ceramic bowl for your anniversary edition Misty Blue, too. See? YOUR KITCHEN NEEDS THIS. I'm not even a good baker (heck, I'm not even mediocre or adequate) and I just added this to my "self-care impulse purchase" list.
And in case you've got some extra cash burning a hole in your pocket (and you're a true fan of the clean, retro design of the anniversary line), KitchenAid is also selling a Misty Blue OVEN. For a cool $7,799.
I don't know about you, but these images make me want to channel my inner Betty Draper (the one who cooks in pearls and heels — the one who shoots birds only comes out during a certain time of the month).
Happy Anniversary, KitchenAid. Bless you for convincing so many of us that we, too, can be the culinary master of our domain. And thank you most of all for making the cutest, most aesthetically-pleasing kitchen appliance of all time.