Kobe Bryant's Sister Gets Tattoo To Honor Her Brother And Niece, Gianna
by Leah Groth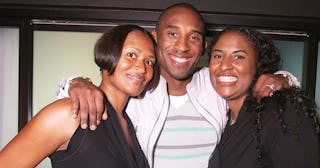 Chris Weeks/Getty
Kobe Bryant's sister, Sharia Washington, has gotten a tattoo in honor of her late brother and niece, Gianna
Kobe Bryant's sister, Sharia Washington, now has her late brother and niece, Gianna, etched in her heart as well as on her body. On Wednesday the basketball star's sister shared a photo of her tattoo tribute to her family members lost in the tragic Jan. 26 helicopter crash that stole the lives of seven other people as well.
"Thank you @peterbarrios," she captioned the image of her fresh ink, a "Black Mamba" snake as well as the jersey numbers of both Kobe and Gianna.
Peter Barrios, who tattoos at Crown of Thorns Tattoo Company in Las Vegas, Nevada, according to his Instagram page, also shared the image.
"I didn't take my own photo out of respect but today I had the honor of tattooing a memorial tattoo on @shariawash," he captioned it. "Thank you for laughing with me today and letting me do this for you. I will never forget our conversations. Much love and respect your family."
Kobe's widow, Vanessa Bryant, also shared the photo to her account on Thursday.
https://www.instagram.com/p/B9FEdnOjrmV/
"(My sister-in-law got this cool tattoo to honor #GigiBryant and #Kobe) ❤️❤️ 2~24 forever. Love you @shariawash – ❤️" she wrote.
Sharia, the eldest of two sisters who Kobe left behind, was in attendance at the moving public memorial honoring their sibling on Monday at Staples Center in Los Angeles. She sat with her younger sister, Shaya Tabb, and parents, Joe and Pamela Bryant, as Vanessa gave her tear-jerking eulogy honoring her deceased husband and daughter.
After destroying pretty much everyone in the crowd by discussing the many ways that Gigi, her "baby girl," was incredible in every single way possible and describing the heartbreak of a mother who is forced to live without her child, she opened up about her love story with the NBA star.
https://www.instagram.com/p/B8kAeW_AnYc/
"I was his first girlfriend, his first love, his wife, his best friend, his confidant, and his protector," she said about her soulmate. "He was the most amazing husband. Kobe loved me more than I could ever express or put into words. He was the early bird and I was the night owl, I was fire and he was ice, and vice versa at times. We balanced each other out. He would do anything for me. I have no idea how I deserved a man that loved and wanted me more than Kobe."
https://www.instagram.com/p/B77K8XWDY7O/
But perhaps the most moving moment of the speech was when the mourning wife and mother revealed how she had come to terms with the loss in her own way.
"They were so easy to love. Everybody naturally gravitated towards them. They were funny, happy, silly, and they loved life. They were so full of joy and adventure. God knew they couldn't be on this earth without each other. He had to bring them home to have them together," she said, ending her speech with, "Babe, you take care of our Gigi. I got Nati, BiBi, and Coco, and we're still the best team."