There's Finally An Ad That Looks Like Many Of Our Family Gatherings, Thanks To Kohl's
by Ashley Austrew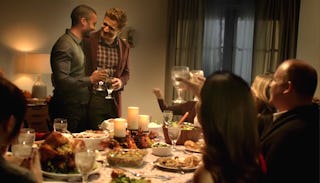 With Thanksgiving just a week away, many stores and brands are releasing ads for the upcoming holiday shopping season. Typically those ads feature the picture perfect mom, dad, two kids, and a white picket fence, but Kohl's is receiving praise for creating a holiday campaign that broadens the definition of the "standard" American family.
In a new commercial that's part of their #AllTogetherNow campaign, a family is shown coming home for the holidays. It starts out with mom in the kitchen cooking, then she goes to the door to welcome her kids. In come her kids with their significant others and their families. They're all different sizes, shapes, races, and sexualities, and it's no big deal because that's just what family is: a bunch of different kinds of people coming together.
Since the commercial went live, it's been viewed over 56,000 times. Many have left comments thanking Kohl's for creating a commercial that showcases a diverse range of people and relationships — especially an adorable, happy gay couple — in such a matter-of-fact way. Wrote one commenter, "I'm not usually a Kohl's shopper but I may need to get a few gifts there this year."
According to Refinery29, the ad is just the first in a series of several that will spotlight each member of the featured family. Kohl's is also putting a "storytelling pop-up truck" in Times Square this Friday and Saturday where people can stop to share their unique holiday traditions via social media. So far, Kohl's has crafted one of the most diverse and inclusive advertising campaigns of the year.
As crazy as it seems, it's still pretty rare to see commercials — especially holiday commercials — that don't look like some sort of homogenized Stepford fantasy. Most holiday-themed commercials tend to show a bunch of people who all look the same frolicking in the snow in matching cardigans. That's not what many of our family gatherings look like, and it's nice to see companies that are starting to acknowledge that.
Hopefully one day commercials like this will be the norm and won't cause a big media blitz, but until then we're happy to give credit where credit is due. Good job, Kohl's, for showcasing a definition of family to which millions of us can relate.
This article was originally published on