K-pop Makes Me Feel Less Invisible — But It's Not Enough
by Virginia Duan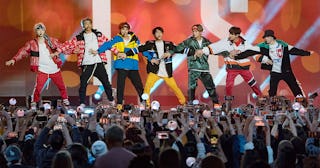 RB/Bauer-Griffin/GC Images/Getty
For anyone paying attention to what's hip and trendy in music, the meteoric ascension of K-pop (Korean pop) in America's consciousness has been a long time coming. Not only is the genre-blurring music innovative and performed by incredibly attractive humans, the artists are also ridiculously talented. Regardless of gender, they can rap, sing, act, and dance — all while being Asian (usually South Korean) — and I am devouring it.
Three years ago, I fell down the K-pop rabbit hole while looking for Mando-pop (Mandarin pop) for my kids to consume because I believe in tricking my children into learning Chinese. (Don't get the misguided idea that my kids are fluent because they've listened to a few Chinese songs or watched Chinese shows. They're bilingual and biliterate because I've spent the GDP of a small country on making them so.)
Little did I know that I would now gratefully throw away all my dignity and self-respect for even the chance to shoot my shot with K-pop group BTS. But despite my husband's belief that I'm into K-pop only for the abs and the androgynous beefcake (not an oxymoron), a huge reason I am such a big fan of K-pop is because finally, there are Asians being cool, talented, and hot — a wholly different narrative than the one I grew up with in the '80s and '90s. Ah, who am I kidding? In the '00s and '10s, too.
I get so tired of listing once again, the dearth of Asian Americans in music, film and television, and the arts. It's like the constant rehashing of old wounds and slights, the very act of having to explain our exclusion and justify it with evidence a microaggression in and of itself.
It is a constant, ineluctable reminder that we are invisible — that I am an outsider in the country of my birth. I will always be asked, "So where are you from?" repeatedly until I have given them my entire resident history only to be confronted with "So where are your parents from?" when they find out I was born and raised in California.
So to see K-pop constantly trending on Twitter, to see K-pop artists circulating as memes, to see the parallel rises in K-dramas and Korean films, it pleases my cynical, shrivelly heart.
But it's not enough.
Don't get me wrong. I'm so thankful my kids will have these images of amazing East Asians on their screens instead of Short Round from "Indiana Jones" or Long Duk Dong from "Sixteen Candles." (Sidebar: I have never liked a single John Hughes movie — don't @me. I find them so whiny and the epitome of white entitlement.)
I'm delighted that my kids can see alternatives to Asian Americans played for laughs and neutered like they did to poor William Hung of "American Idol" (who, though a terrible singer, was super brave) or Ken Jeong in "The Hangover" series.
But K-pop is not the same as Asian American. There are Asian Americans in K-pop like Jay Park, Eric Nam, Jessi, and Amber Liu, but they are artists who had to go to South Korea to get famous and import their fame back to the U.S.
It is a sojourn every Asian American knows by heart. America doesn't want us — and so one of our only avenues to success is to reverse the journey our forebears made and get famous enough in Asia so the U.S. might think we have broad enough appeal to sign to a U.S. label or be in an American film as a lead.
But even when we make an American movie, we get shunted into the Best Foreign Language Film category by the Golden Globes like Denver, Colo. born Lee Isaac Chung's "Minari" starring Steven Yeun and the Asian American Lulu Wang helmed film "The Farewell" starring Awkwafina. As if a country without an official national language comprised of 14% immigrants as of 2018 even has a foreign language.
We — who are just as American as chop suey — are perpetually foreign regardless of how many generations our ancestors have lived and died here, outed by our outward appearance.
So though I am ecstatic to show my children images of East Asians in pop culture — of people who my children look like phenotypically because representation matters — it is not remotely enough. Though these celebrities and artists look like my kids, culturally, they are not at all the same. Plus, K-pop stars by no means even begin to reflect the breadth and depth of Asian Americans — nor should they.
Including multiracial Asian Americans, Asian Americans comprised 6.5% of the U.S. population in 2018. And yet, our representation in pop music is abysmal. According to a study of the new artists signed to three major labels in 2018 and part of 2019, 2.35% were foreign-born Asian and only 0.67% were Asian-American. In the pop genre, the numbers fared marginally better with 7.45% foreign-born Asian (mostly established K-pop artists), 2.13% white/Asian, and 1.06% Asian-American.
I'm giddy at the fact that South Korean band BTS is nominated for Best Pop Duo/Group Performance at the 2021 GRAMMYs, has won the 2019 Billboard Music Award for Best Pop Duo/Group, and are the first all-South Korean act to have three number one hits on the Billboard Hot 100 — all achievements beyond my childhood (and adult) imagination.
But the fact that I can count on one hand some of the more prominent Asian American winners and nominees of the GRAMMYs (H.E.R., Jhené Aiko, Kelis, Amerie, Bruno Mars, and Ne-Yo) is damning. I won't be satisfied until Asian AMERICANs — not just East Asians or K-pop stars — are center stage so frequently that it is laughable to try and count. That we are so prominent, so undeniably American, that my children and their children will take for granted being visible. They will never know any different.
This article was originally published on