Kristen Bell's Daughter's 'Threatening Notes' Are A Whole Mood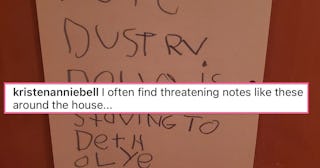 Kristen Bell Instagram
Kristen Bell's daughter leaves aggressive and "threatening notes" around the house
Kristen Bell is an outspoken, fiery woman, who knows what she wants, which is why her daughter Delta is exactly the same way. In a new Instagram post, Kristen Bell shared the extremely aggressive notes that her daughter leaves around the house for mom to find.
Apparently, if Bell's six-year-old daughter Delta wants to let you know about something, she writes it on a note, in the most straightforward language possible, and then leaves the notes around the house for mom to find.
"I often find threatening notes like these around the house," Bell shared alongside photos of said "notes."
"This note was taped to her door during her 30 mins hunger strike," Bell shared, before translating her daughter's note, which read: "Don't disturb, Delta is starving to death, only Mom can come in."
"'Deltas cookie Don't eat it or else…'" read the other note, alongside the tiniest sliver of a leftover cookie, which is the perfect combination of sad and precious. Unclear how 8-year-old Lincoln, Bell's eldest daughter, thinks about all this. I mean, Delta hit her with an "or else" over that damn cookie. That being said, Lincoln once wrote an "essay" critiquing her mom's parenting style, so I feel like these girls have a lot in common.
"Guess I should be grateful my kid can speak her mind! (And appreciates leftovers)," Bell added.
I mean, it beats passive-aggressive notes, right? Shoutout to a tiny queen with a super-direct communication style???
Bell often shares photos and videos of her daughter's anecdotes, however, she won't share photos of their faces online. Perhaps for security reasons being a highly public figure, but also because Bell — like a lot of famous women — want to wait to find out if their children want their faces to be immortalized on social media. Bell would rather not make that decision for her kids, seeing as the stakes are much higher when you're the offspring of a famous person.
"My feeling is that I chose a career in the public eye. I chose to be quoted, I chose to have my picture taken," the actress explained back in November (via Romper). "I don't know them yet. I don't know if they will want that. So I really don't have the right to choose for them."
Adorable handwritten notes are fair game, though.
Elsewhere in the Kristen-Bell-And-Dax-Sheppard-Househouse-Is-My-Own-Personal-Reality show, Bell just turned her husband's deranged doodles into literal wallpaper. Yes, really.
"I made these family portraits, and [Kristen Bell] turned them into wallpaper for my closett!!!" Dax captioned the post.
I can't tell if this is a sweet thing or like, "Awww, babe, those doodles are…sooo…nice? Let's put them in the closet where nobody can see them."
Either way, I love this delightfully weird little family. Carry on.