Kristen Bell Explains How Dax Shepard's Struggle With Addiction Changed Her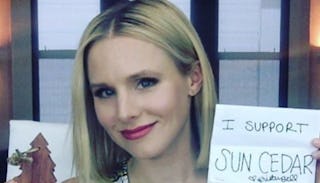 Image via Instagram
Kristen Bell explains how Dax Shepard's struggle with addiction helped shape her worldview
As far as celebrities go, Kristen Bell is pretty top-notch. She's humble, down-to-earth, and very open about life with husband Dax Shepard. We now have one more reason to love her, as she shows incredible compassion and understanding to those struggling with addiction. And the reason she's so sensitive to their plight is very personal.
Bell tells E! News of her connection to those recovering from addiction, as she's seen those difficulties firsthand through Shepard. "I have a particular affinity towards helping people who feel outcast whether they've made mistakes, like having past felony convictions or recovering addicts. My husband is in recovery and is almost 13 years sober."
She goes on to say how witnessing his journey has informed the way she sees addiction. "And seeing the world through his eyes has really opened mine to knowing that it is a disease and nobody is choosing to drink more than others, they are doing it because of a variety of reasons and they deserve the attention of a mental health professional, and not the county jail or however else we're choosing to pretend we're fixing the problem."
Of his own past with addiction and road to recovery, Shepard told Playboy, "I just loved to get fucked up—drinking, cocaine, opiates, marijuana, diet pills, pain pills, everything. Mostly my love was Jack Daniel's and cocaine. I was famous for going out on Thursday night to have a couple of beers, and that just led all the way to Saturday night…I lived for going down the rabbit hole of meeting weird people. Of course, come Monday I would be tallying up all the different situations, and each one was progressively more dangerous. I got lucky in that I didn't go to jail."
To that end, Bell has become a vocal advocate on behalf of those affected by addiction or a difficult past. She recently donated $10,000 to Sun Cedar, a nonprofit resource center and manufacturing organization dedicated to helping addicts, past felons trying to find employment, and homeless individuals trying to reclaim their lives.
When it comes to being a mom to daughters Delta and Lincoln, ages three and one, the actress says teaching her kids to be similarly compassionate in how they treat people is a priority. "It is the most important thing I am trying to teach. I am trying to teach my kids not be stunted by country lines, language barriers, or religious boundaries. And that all human beings, and everyone in the world is part of someone's family and they should be treated as such."
Her message is one we can all try to apply as we show our children what it means to be a citizen of the world where we are all human and as she says, the same. "It's so simple to get caught up in lines that divide us. Why are you different? I think it's important to remind ourselves that we are all the same and everyone is doing the best they can with what they have."
This article was originally published on