Kristen Bell & Dax Shepard Are Hosting A Family Game Show & It Sounds Fun AF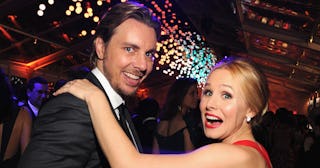 Kevin Mazur/VF14/WireImage/Getty
Kristen Bell and Dax Shepard will host and compete on the upcoming Family Game Fight game show
Your fave imaginary BFFs Kristen Bell and Dax Shepard just announced that they will be hosting and playing alongside contestants on an upcoming NBC family game show which Kristen described as "great" news, "as long as we leave this show still married."
Produced by Ellen DeGeneres, the upcoming show was inspired by a 2019 Ellen Show episode when Shepard and Bell played a game of "taste buds" and proved that they are actually the best game show contestants that ever lived.
The married actors will both host and compete on Family Game Fight, a new NBC game show where two families (a 'la Family Feud) will face off against each other in wacky contests. In addition to hosting, Bell and Shepard will join the various families during the competition, thereby playing against each other every week.
Not only are these two one of the funniest Hollywood power couples, they're big time game enthusiasts IRL too.
"For one of our first dates, I invited Dax over for a game night at my house with a bunch of friends," Bell said a statement (via People). "He said he fell in love with me there because I was a very tiny person bossing everyone around. I fell in love with him too because he's a very large person who could boss everyone around, but chooses not to. I'm so excited to host Family Game Fight and play all day with my best friend."
"Kristen is my favorite human to work with," said Shepard. "She's the most consistently funny, playful and joyful scene partner I've ever had. She's also incredibly fun to look at."
The upcoming NBC series will launch with 10 episodes and each week, families will compete for $100,000 with the help of Shepard and Bell. In a clip for the upcoming show, the new hosts are described as your favorite "perfectly imperfect couple," and lol, that's accurate.
"When I play games and get very competitive, I go fully offline," Bell explained "And that's fun. It's interesting for the viewer, it's interesting for my husband. As long as we leave this show still married, I think it's going to be great."
The two announced the news on The Ellen Show, as DeGeneres — who already hosts Game of Games — is set to produce the new series, because Ellen is just printing money at this point with the number of shows she hosts or produces. Phew.
"Kristen and Dax are simply magnetic when they're on screen. They are a spontaneously funny and loving couple that are also surprisingly competitive in this fast-moving family competition. They are pure magic together," an executive said in a statement (via Variety).
If you want to submit to be on the show and hang out with Kristen and Dax, submit an application online here.