Kristen Bell And Dax Shepard Are Every Mom And Dad On A Date Night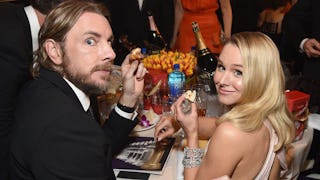 Image via Michael Kovac/Getty Images
Kristen Bell and Dax Shepard are couples' goals — always
Kristen Bell and Dax Shepard have long been one of favorite couples on the planet and watching them at last night's Golden Globes only solidified their position on top. The pair were sans kids for a night out and while they clearly looked significantly better than any of us on date night, they were just that — two parents on the town with zero responsibilities besides having fun with each other.
Bell was nominated for Best Performance by an Actress in a Television Series, Comedy or Musical for her role as Eleanor Shellstrop in The Good Place. She lost out to The Marvelous Mrs. Maisel's Rachel Brosnahan but it didn't seem to phase the mom-of-two, who posted hilarious pics and Instagram stories of the pair.
She also joked about their pre-show routine, which consisted of eating and laying in bed. "I can't remember exactly, but I'm pretty sure the rule is to eat as much as humanly possible before squeezing into a formal dress. Right?" she wrote.
Oh, and Shepard shared the good news that he did manage to shower for the big event. The night before, of course.
Seriously, even when they're being campy goofballs they look stunning:
Upon her and Shepard's return from the awards, the parents of daughters Delta, four, and Lincoln, five-and-a-half wanted to be sure their girls knew they weren't galavanting around town, but in bed and eating…..again. Bless.
During the show, Bell told US Weekly they were most excited about "going to bed" after the event, which make us love them even more. Bell also showed sweet messages from the girls which they'd taped to their door to see when they got home.
"'I love you, Mama, and I love that you have a nomination,'" Bell read from one of the the heart-shaped paper drawings from their youngest. Another said, "'Dear Mommy, I am really happy you got chosen and it breaks my heart…I am really happy and it makes me happy inside, and I won't be mean to Delta at all.'"
"And then some completely grotesque pictures of us," Bell joked in her story, showing another picture from their girls. "Oh my goodness."
It's clear the pair have their priorities straight — a fun night out mingling with the stars and then straight to bed with some good chow before their kids wake up in the morning. Sounds like a perfect little Sunday.