Kristen Bell Explains How Dax Shepard Got Rid Of Her Mastitis And It's A Lot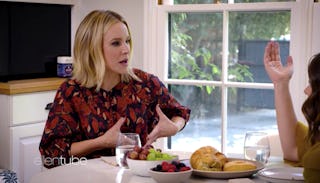 Image via YouTube/Momsplaining
The latest episode of "Momsplaining" features a story about Dax Shepard helping "nurse" Bell back to health
Kristen Bell is one of our favorite celebrity moms because she puts it all out there. She's very real about everything from not letting her kids' bad behavior get her down to how it feels when your kids prefer Elsa and you're literally Anna. Her latest motherhood confession is as candid as it gets, and the fact that she's sharing it only makes us love her more.
Bell told a little story in the latest episode of her parenting web series Momsplaining about a thing husband Dax Shepard did to help relieve her mastitis, and she didn't really sugarcoat.
He totally nursed on her boob to help relieve the pain.
It's a lot, right? As a mom, I'm not terribly shocked or remotely grossed but, but my pre-kid self would've been all:
But my post-kid self totally gets it. Because breastfeeding is hard AF and mastitis is miserable, so whatever works, do it. Which is exactly what Bell is getting at. She shares that she actually had mastitis a total of three times during her nursing days, and more power to her, because once is more times than any mom should have to endure.
"The third time I had it I was in Atlanta and we couldn't call a doctor," she explains. "And this was right after the baby stopped nursing. So I said to my husband, 'I'm gonna need you to suck this out. We could talk about it, we could be weird about it, or you can just go ahead and nurse.'"
Bell's guest, Katie Lowes from ABC's Scandal, asks if Shepard actually did it. "Yes!" Bell exclaims. "He had a cup next to him. He was pulling out and spitting into this cup. And I've never been more in love in my life."
Well. At that point, it's kind of all out there, isn't it? Once your husband has literally nursed your boob back to health, all bets are off. That's freaking love right there.
Bell and Lowes also dished on what it's like bringing a new baby home and not immediately falling in love, with both moms admitting they had a rough time at first. "I felt the same way and I don't feel like anyone talks about that!" says Bell. "It IS a stranger. As humans, we make connections through experiences. I had no experiences with this person!"
The video wraps up with Bell suggesting Lowes try some of her own breast milk, which she did. The verdict? "Whoa … it's sweet!" she says. "Very sweet. Like vanilla sweetened almond milk."
Keep the realness coming, Kristen. Goodness knows we need to hear it.