Kristen Bell And Daughters Serenade Dax Shepard While He Self-Isolates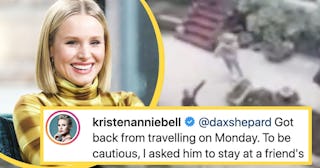 Scary Mommy, Jim Spellman/Getty and Kristen Bell/Instagram
While Dax is in temporary self-isolation, Kristen Bell is helping him make the most of it
Being separated during this national period of self-isolation would be pretty difficult for any family, so Kristen Bell is getting creative for husband Dax Shepard and his cabin fever. Bell and her girls serenaded dear ol' Dad while he isolates away from the family after traveling to and from Texas recently.
Bell reveals via Instagram, "@daxshepard got back from traveling on Monday. To be cautious, I asked him to stay in our friend's empty apt for a few days to make sure he had to no symptoms."
Just because you can't be together, that doesn't mean you can't dance together, right? Check it out.
The Frozen star admitted it's hard to be away from Shepard during this time, even if it's for the best. "Today we were missing him so much, we did the only logical thing we could do," she writes. "Danced outside his window to a @bensplatt and @dearevanhansen serenade."
During this time, some celebrities have been trying their hand at cheering people up. Bell's Frozen co-star, Josh Gad, has been conducting a social media story time to keep kids everywhere occupied for a bit each day.
If you want to catch up on these highly entertaining stories (complete with funny voices, because DUH, every story needs those), they can be found on his Twitter timeline.
As for Bell and Shepard, they've already donated precisely $150,007.96 to No Kid Hungry, a charity group that focuses its efforts on feeding children and families in need.
"NKH has always been there for kids who need them," she says. "They work tirelessly to provide food for the hungry bellies all over this country. I encourage anyone with the means to share to donate as well, any amount helps, so we can get through this together."
And if you're wondering why the donation amount is seemingly random, well, there's an adorable explanation for that. "The reason the number is odd, is because when my kids overheard me making the donation, they asked if they could also donate the money from their piggy bank. I couldn't have been prouder to add that extra, and important 7 dollars and 96 cents."