Kristen Bell Shares Emotional Tribute To Dax Shepard On His Sobriety 'Birthday'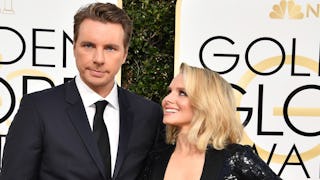 Image via Steve Granitz/WireImage
Kristen Bell shares a sweet message and photos celebrating Dax Shepard's 14th year of sobriety
Kristen Bell and Dax Shepard continually show us just how perfect they are for each other, and that there's just so much to love about both of them. The Instagram tribute Kristen Bell shares in honor of Shepard's sobriety is just another real, emotional, and beautifully raw glimpse into their relationship we're privileged enough to witness.
Also? The never-before-seen, intimate family photos she shares are simply lovely.
Shepard is celebrating his 14th year of sobriety this weekend, and Bell decided to honor him with a poignant post full of touching moments between the two of them. "To the man mocked me when in our wedding photos because I cried too many tears of joy, who wore a baby Bjorn for 2 straight years to show his girls how to be as adventurous as possible, who held our dear little shakey mann pup for 8 hrs straight on the day we had to put him down," she writes.
Sorry not sorry, I will never stop loving their super casual courthouse wedding photos or that floral archway that reminds me of my junior prom photos.
Shepard has always been very candid about his struggle with addiction and sobriety. It's no easy feat to stay sober, and having a supportive and encouraging partner like Bell is a really awesome thing to see. "I know how much you loved using. I know how much it got in your way. And I know, because I saw, how hard you worked to live without it," she says. "I will forever be in awe of your dedication, and the level of fierce moral inventory you perform on yourself, like an emotional surgery, every single night."
She thanks Shepard for never failing to apologize and make amends when it's needed. "You are always available to guide me, and all of our friends, with open ears and tough love when its needed most."
The couple are parents to Lincoln, 5, and Delta, 3 — and the photos of Daddy Dax are honestly major heartstring tuggers. "You have become the fertilizer in the garden of our life, encouraging everyone to grow," she continues. "I'm so proud that you have never been ashamed of your story, but instead shared it widely, with the hope it might inspire someone else to become the best version of themselves.
You have certainly inspired me to do so."
On his own Instagram account, Shepard shared that his wife gave him literally the most awesome 'birthday' gift ever — a tour of the King's Hawaiian factory. As you do.
Christ, I love these two so damn much. Speaking of love, Bell's post ends on the sweetest note.
"I love you more than I ever thought I could love anyone, and I want you to know, I see you," she says. "I see how hard you work. You're hard work benefits all of us, and you set an excellent example of how to be human. Happy 14th year sobriety birthday, Dax Shepard."