Kristen Bell Reacts To Her Depiction In Dax Shepard's Sexed Up Van Mural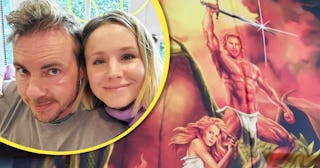 Kristen Bell/Instagram and Top Gear America/Youtube
Kristen Bell isn't exactly "thrilled" about her submissive portrait in Dax Shepard's new van mural
Top Gear America is a show about all things cars and car-related, a perfect show for car-obsessed actor Dax Shepard to co-host. In a recent episode, however, his love of vehicles is, uh, kind of combines with a love for his wife in a must-see moment that will make you laugh out loud while also understanding Kristen Bell's ire.
In an episode that aired last week, Shepard revealed that he decided to have an image of him and Bell painted on the side of a van. Sounds pretty badass, right? Kinda cool, considering Shepard is obsessed with cars and also his wife.
Well… the painting is a little… um… yeah. Not super realistic. But it's also pretty great.
It features a ridiculously buff version of Shepard as he's emerging from flames while wielding a sword and standing on top of a dragon that Van Dax has presumably slain. It's hilarious, looks like some sort of '80s sci-fi romance novel cover, and it's extremely on-brand for Shepard's humor.
″[The van] was inspired by 'Breaker! Breaker!' a Chuck Norris movie," Shepard has since explained. "I've always loved those 70s muraled up vans. I've wanted one. And my wife is pretty adamant that's the one vehicle she doesn't want in our driveway."
Now, listen, in the mural, Bell looks beautiful — she's got the flowing blonde locks, a very Xena: Warrior Princess vibe, and is clearly not intimidated by the dead dragon. But this very gorgeous, very sexed-up version of Bell is also very submissive. Something she wasn't exactly into when she saw it, according to Shepard.
"But she wasn't thrilled with the level of 'female empowerment' that was depicted in that mural," Shepard said. "Understandably. And my kind of excuse was we had to honor the era in which this was popular. It didn't fly."
Bell and Shepard have been married since 2013 and have two daughters, Lincoln and Delta. They're fairly public about their ups and downs and life as parents, much to their fans' delight. Last fall, Shepard admitted he suffered a relapse in his sobriety following an ATV accident. He was prescribed Vicodin for his pain and started out just taking the pills as needed (and as Bell administered them), but within a few months, he said he was buying opioids on the street and taking them all day.
In an appearance on Ellen not long after Shepard went public with his relapse news, Bell said she and Shepard are in therapy and that she plans to always stand by her husband because he's "very, very worth it."
When it comes to love of all things cars, however, Bell may not share her husband's enthusiasm equally but he recently told PEOPLE that his daughters sure do. He said Lincoln, 8, and Delta, 6, both inherited the gene "big time."
"They always make my day when we're on the road and they know cars," Shepard said. "They seem to have the bug," he adds, "which is, you know, my total dream come true."
This article was originally published on