Dax Shepard Says His Kids Can't Tell Anyone Their Mom Is Anna From 'Frozen'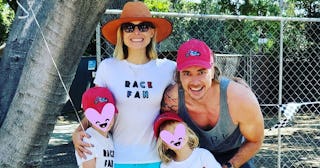 Kristen Bell/Instagram
Dax Shepard says his daughters can't tell their friends that their mom Kristen Bell is Anna from 'Frozen'
Did you know that every five minutes, a child somewhere in the world dresses up as Anna or Elsa from Frozen? I mean, I don't know for sure, but like, it's probably a true fact. If your kids went through, or are still in, their Frozen phase, they would probably lose their mind if they found out their mom literally was Anna or Elsa, but for Kristen Bell — who voices Princess Anna in the wildly popular Disney films — her kids have the coolest Frozen brag ever, but they can't use it because Dax Shepard told daughters Lincoln and Delta that they can't blow up their mom's spot. What an incredibly specific conundrum.
In a January 25, 2021 episode of his podcast Armchair Expert, Shepard talked to Justin Timberlake, who, as you know, voices Branch in the Trolls movie — another movie that is basically catnip to kids — about what it's like being a parent when you're also the star of an insanely popular kids' movie. Truly this is a problem that only a handful of humans will ever have, but it's still kinda funny. Shepard shared that the community he lives in with his family put on a theater production of Frozen (a couple years ago, Bell revealed that her daughters actually played Kristoff and his reindeer Sven in a production she called "Frozen Junior," so I'm guessing it's the same show), but Shepard said they didn't want their kids telling everyone that their mom is actually, like actually actually, Anna.
"I had to tell my daughters, I'm like, you cannot tell anyone in this thing that your mom is Princess Anna," Shepard said. "And I know you're proud, and you should be able to say that, but I'm just warning you that will probably make other kids jealous and they won't know how to handle that feeling."
"I have a great fear that kids are gonna hangout with them solely because of that, or resent them because of that," Shepard continued. "To me, the two options both seem terrible. Either they're gonna have fake friends or they're gonna have people hate them for no reason."
It's sad to hear that Bell's kids are facing a lose-lose situation. Fake friends who just want to meet Princess Anna or jealous friends who think that Lincoln and Delta are bragging.
However, it seems like their kids are taking it well. Back in November 2019, Bell told USA Today that her daughters are kind of uninterested in their mom's involvement in the movie anyways.
"They get just as excited as other kids," Bell said at the time. "They just don't necessarily love to talk about the fact that I'm in the movie. I like the fact that my daughters are like, 'No, Frozen is mine. I don't need to involve you in it.' There's something really beautiful about that."
If you've ever wondered what it's like for Kristen Bell's family to navigate her Frozen fame, now you do.