Kristen Bell Shows Off Post-Baby Mesh Undie Pic Because She's All Of Us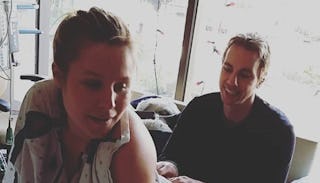 Image via Instagram/Kristen Bell
We are so here for Kristen Bell's delivery room photos
While Kristen Bell and her husband, Dax Shepard, are incredibly engaging and candid about their marriage and lives as parents, they're pretty serious about keeping their kids out of the spotlight and away from photographers. Bell recently shared a few never-before-seen photos of her delivery experience with her youngest daughter, Delta, in honor of her third birthday.
But Delta wasn't the best part of those photos. Nope. The true star of Bell's most recent Instagram collection? Mesh. Undies.
You know the kind. Doesn't matter how you deliver your children, you're gonna end up in pair of those hospital-grade panties whether you like it or not. Frankly, it's so nice to see an A-list star share realistic delivery and post-birth photos for a change.
"Three years ago today. 47lbs heavier," Bell captioned the photos. "Getting through painful contractions with backrubs and breathing. Occasionally swinging from the IV pole to try and feel sexy and open up my hips. After 36 hours of labor I met a girl i love more than all the molecules in all the world. Happy birthday, Delta. Love, mom #meshpanties."
Oh hell yeah. Props for her even being able to get up on that big ass ball, seriously.
I see London, I see France, I see Those Goddamn See-Through, Humiliating-But-Necessary Underpants!
Laugh all you want, but I specifically requested extra pairs of those meshies to take home because they were the only things big enough to house the diaper-sized ice pack I desperately needed that first day home.
It's unclear if Bell did in fact receive one, but man, epidurals are goooooooood.
*Heart Eyes Emoji*
To be perfectly honest, we are so here for that big pregnant belly, that IV pole dance, and Dax's face all up in the Mesh Zone. Because many celebrities often share perfectly poised, perfectly coifed, perfectly perfect post-baby photos — we get it, you have a glam squad — it's refreshing to see one of our favorite moms generously share realistic, intimate photos that reflect the exact same experience we all have in the delivery room. (IV pole-swinging optional.)
This article was originally published on