The First Look Of Kristen Stewart As Princess Diana In 'Spencer' Is Here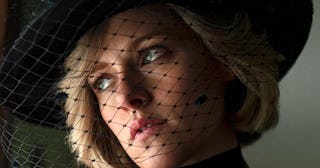 Neon
'Spencer' focuses on one weekend in the life of Princess Diana, and Kristen Stewart looks every bit of the People's Princess
If you're feeling a need for more Princess Diana content, you're not alone. The most recent season of The Crown on Netflix left us all craving more of her story, and we're in luck. Kristen Stewart will portray the princess in a new film called Spencer, and the first official photo shows that so far, she's absolutely nailing it.
Filming and principal photography has begun on the movie in anticipation of a release at the end of the year. Spencer focuses on just a single weekend in Princess Diana's life — her last Christmas as a member of the royal family, where she ultimately decides to end her marriage to Prince Charles. That Christmas was featured in the last season of The Crown, but not in-depth.
When news of Stewart's casting was initially announced last year, many people were left head-scratching at the choice. But please, allow yourselves to accept that the actress who is most famous for playing a forlorn, teenage vampire lover in a bad wig wasn't at fault for the Twilight storyline! She's come a long way since those days and has demonstrated her acting chops in recent movies like Charlie's Angels and Happiest Season.
The first-look image of Stewart in the role was released today, and it's got the internet abuzz.
https://twitter.com/jetpack/status/1354446010785931270
The Spencer cast also includes Timothy Spall, Sally Hawkins, and Sean Harris. The script is written by Steven Knight (Locke, Peaky Blinders), and will be filmed primarily in the U.K. and Germany.
"With Kristen Stewart, Steven Knight and the rest of our fantastic team both in front and behind the camera we are bringing Spencer to the world," the producers said in a statement. "It is an independently produced film made for the big screen about an iconic woman's own declaration of independence. We couldn't be more excited!"
Stewart herself knows the role comes with a lot of expectations, but wants to really do the memory of Diana, who was a complicated, brilliant woman who lived a complicated life, justice. She was a humanitarian and is remembered for her heart, empathy, being a good mother, and working tirelessly for charitable causes — but she was also a fully-dimensional, flawed human being who was tasked with navigating some pretty crazy circumstances.
"Spencer is a dive inside an emotional imagining of who Diana was at a pivotal turning point in her life," Stewart said in a statement, per Entertainment Weekly. "It is a physical assertion of the sum of her parts, which starts with her given name; Spencer. It is a harrowing effort for her to return to herself, as Diana strives to hold onto what the name Spencer means to her."
This article was originally published on