Kroger Is Getting Rid Of Plastic Bags In All Their Grocery Stores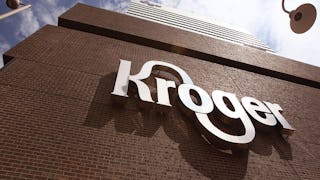 Image via Getty Images/ Scott Olson
Kroger hopes to phase out use of plastic bags completely by 2025
One of the largest supermarket companies in the U.S., The Kroger Company, announced they are doing away with single-use plastic bags by 2025. The effort comes as a multi-pronged approach to environmental safety measures taken by the retailer in the past decade.
The Kroger Company, which includes major chains like Ralphs, Harris Teeter, Food 4 Less, Pick 'n Save and, of course, Kroger and owns more than 2,700 supermarkets in 35 states says they will begin with the Seattle-based supermarket chain QFC and eventually implement the practice to the entire company, nationwide.
"As part of our Zero Hunger/Zero Waste commitment, we are phasing out use-once, throw-it-away plastic bags and transitioning to reusable bags in our stores by 2025," said Rodney McMullen, Kroger's chairman and CEO. "It's a bold move that will better protect our planet for future generations."
In addition to this initiative, the retailer also announced several other initiatives, including: Diverting 90 percent of waste from landfills by 2020 and a Food Rescue Program which will send more than 91 million pounds of safe food to local food banks and pantries. The grocer provided more than 325 million meals to families in need in 2017.
According to NPR, less than five percent of plastic bags are recycled annually in America, and "single-use plastic bags are the fifth-most common single-use plastic found in the environment by magnitude." National Geographic reported about 8.8 million tons of plastics are dumped in oceans annually, harming ocean life and our environment to a degree at which we still have little comprehension.
"We listen very closely to our customers and our communities, and we agree with their growing concerns," Mike Donnelly, Kroger's executive vice president and COO, said in a statement. "That's why, starting today at QFC, we will begin the transition to more sustainable options." The organization is saying they will be fully transitioned by 2025.
Kroger is one of many conglomerates to do away with plastics. Starbucks recently announced they will be getting rid of plastic straws by 2020 and Disney also said they are doing away with straws to reduce their plastics footprint. In England and parts of the UK, customers have been charged five pence (under seven cents) for every plastic bag since 2015 in an effort to reduce the amount of litter created.
As a customer, simply asking for paper over plastic or bringing in your own recyclable bag to carry out groceries and goods is an easy way to do your part and prepare yourself if you're a 'plastic over paper' consumer.