Kylie Jenner And Drake Are Reportedly 'Seeing Each Other Romantically'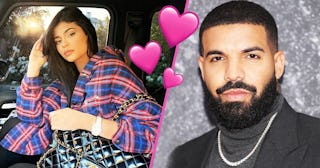 Kylie Jenner/Instagram and Mike Marsland/Getty
Sources say Kylie Jenner has been hanging out with Drake following her split from Travis Scott
Drake has said (or, you know, sang) that he needs someone who'll help him think of someone besides himself. And, hey, maybe that person is Kylie Jenner. Because according to People, multiple sources say the rapper, 33, and Kylie Cosmetics mogul, 22, have moved past platonic and into something, well, more.
Last month, Jenner called it quits with Scott after two years of dating and one wildly cute daughter together. So, naturally, it took roughly five seconds after their split for rebound rumors to begin. Some online chatter suggested Jenner may have found her way back to her other other ex, Tyga. However, People's current sources claim transitioning into a relationship with Drake was a natural progression for Jenner.
"[Drake] and Kylie have been spending time together recently. They've been friends for a long time and Drake is very close to the family," said one source. Another seems to be on the same page, saying the two have been hanging out "romantically" since Jenner and Scott broke things off.
Speculation about the nature of Jenner's relationship with Drake didn't just materialize out of thin air. In recent weeks, the pair's paths have crossed more than once. First, Jenner attended Drake's 33rd birthday bash last week at Goya Studios in Los Angeles. Then, on Thursday, she turned up at his Halloween party in West Hollywood where, per a source for People, Jenner stayed "super late."
https://www.instagram.com/p/B4WG1G7n9WM/
Although c'mon, what's a little late-night Halloween-and-chill among close friends, right?
Being part of the same social circle could explain all of this away — except another source, this one for Us Weekly, also insists the two are more than pals. "Kylie and Drake's friendship did take a romantic turn recently. At his Halloween party, they were affectionate and clearly there together," claimed the source. "They've been seeing each other romantically. He also showed up to Kendall [Jenner's] birthday."
In fact, an apparent party insider told Us at the time of the rapper's birthday bash that Jenner and Drake looked pretty cozy. "She spent most time near Drake and his friends. Kylie was rapping to songs and dancing with her friends while she was next to Drake, but they weren't dancing together. They seemed to have a connection though," the source revealed.
A second party source echoed their apparent mutual "attraction" and comfort level with each other, saying they were "joking around and Kylie was laughing." So, still not exactly a smoking gun that these two have coupled up. Plus, sources close to both Drake and Jenner deny they are anything but close friends.
But something tells us this won't be the last time we hear about Jenner and Drake looking flirty out and about. If Drake's lyrics have taught us anything, it's that things don't end once the party stops — he just changes the pace and takes it slow.