Kylie Jenner Just Got More Roses Than We've Ever Seen In Our Lives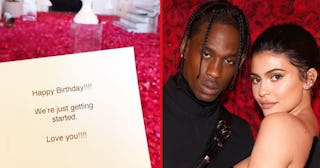 Kylie Jenner/Instagram and Kevin Mazur/MG18/Getty
Kylie Jenner got the birthday present of every flower-loving girl's dreams
Kylie Jenner has a birthday right around the corner, but it looks like the reality star — and her swoon-worthy boyfriend, Travis Scott — are kicking off the celebrations a little early this year. Jenner posted a video to Instagram of the early gift she received from Scott, and, um, you have to see this to believe it.
https://www.instagram.com/p/B0y8EmenMGM/?igshid=xht8jqmqzvmc
Yes, that is Jenner's entire home covered in roses. Like, it's a carpet made of roses. In the video, she gets to literally prance barefoot across her brand new rose rug, and we are all intensely jealous. Travis, you done good.
Also, please take note at the start of the video of their 18-month-old daughter, Stormi, sitting in the corner and gleefully throwing rose petals into the air. This is truly a gift for the whole family and everyone who doesn't have a pollen allergy is absolutely here for it. They're just the sweetest little family.
https://www.instagram.com/p/Byy3WooHSG0/
https://www.instagram.com/p/B0MY1WAnUEI/
Seriously, the internet can't get enough of how romantic this gift is — or how jealous it's making everyone.
Travis Scott filled Kylie Jenner's house with roses for her birthday
And people are definitely also pointing out that whoever cleans the Jenner mansion may not be quite so thrilled about the surprise.
But hey, cleaning up piles and piles of rose petals has to be more fun than cleaning up, like, dust or Stormi's toys.
Scott accompanied his gift with a card for Jenner that read, "Happy Birthday! We're just getting started. Love you!"
So this is just Kylie's pre-birthday gift, and as the card noted, Scott is "just getting started." We can't even imagine the magnitude of the gift that's probably in this girl's future, but please let her share it to social media because we can't live with the suspense. Here we thought Kanye West was the king of rose-related gifts, but Travis Scott just beat the man at his own game. There's no telling what else might be up his sleeve. Let's also remember the "push present" he gave her after Stormi was born.
https://www.instagram.com/p/BfmlHzSHFPp/?utm_source=ig_embed
And this extremely sparkly watch for apparently no reason at all other than love.
Also? Kylie isn't the only member of the family getting loads of blooms. Travis was on the receiving end of a little mother-daughter congratulatory flower gift last year.
Lord knows Kylie Jenner deserves to have an over-the-top excellent birthday after the year she's had. In June, she revealed on Instagram that little Stormi had been rushed to the hospital for what the family suspected was an allergic reaction. That's a terrifying situation no mom should have to go through. And that came after Jenner got seriously mom-shamed all over the internet because she went to Coachella. Because, you know, moms aren't allowed to enjoy their hobbies anymore after babies are born — not even moms like Kylie Jenner who can afford an entire army of the world's top nannies to make sure Stormi is in excellent hands.
Happy birthday, Kylie. We hope whatever surprise comes next is even better than this one.
This article was originally published on