Kylie Jenner Accused Of Profiting Off Pandemic With Hand Sanitizer Release
by Cassandra Stone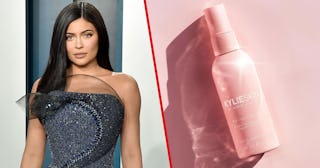 Axelle/Bauer-Griffin/Getty and Kylie Skin/Twitter
Kylie Jenner is facing criticism after releasing a new hand sanitizer product through her Kylie Skin brand
Kylie Jenner, beauty mogul and billionaire extraordinaire, is facing some backlash this week after releasing a new hand sanitizer product as part of her Kylie Skin brand. Jenner announced the release of the hand sanitizer yesterday, basically touting it as a luxurious hand sanitizer that doesn't cause "dryness."
RELATED: Try This DIY Hand Sanitizer Spray Recipe To Keep Your Hands Germ-Free
Kylie's hand sanitizer is marketed similarly to the rest of her collection, and costs $7 for just two ounces of liquid. Listen, if a product is well under the requirements for airplane liquids and you're charging $7 for it, it better contain the secret to eternal youth or at least permanently banish all acne forever. Because most people can get a much larger bottle of skunky-smelling hand sanitizer at Walgreens for less than $3.
Fans and critics alike are coming down on Jenner for making a buck off the need for hand sanitizer during a pandemic.
To be fair, Kylie Jenner donated $1 million to provide first responders with protective equipment during the early days of the pandemic in April last year. She and her mom, Kris, also worked with Kylie Cosmetics to donate hand sanitizer to California hospitals last year as well. Which is something all rich people should do regularly, honestly.
As a whole, the Kardashian-Jenner clan has been accused of, at best, being wildly tone-deaf in regard to posting their activities throughout the pandemic (at worst: openly defying stay-at-home orders for Southern California because they're rich, can afford protection and precautions most people can't, and they think the rules don't apply to them because of both of those things).
Last spring, Kylie was called out for breaking social distancing and mixing with other households. Beyond that, the entire family has been called out for gathering for Scott Disick's birthday, Kendall Jenner's birthday, and Kim Kardashian's insane 40th birthday party where dozens of people flew to a tropical island and posted about it online when hundreds of thousands of people across the country are suffocating to death from their own lungs.
https://www.instagram.com/p/CJekA2GnJyr/
The Kardashian-Jenners have also broken multiple CDC guidelines to gather for the holidays, and most of them are now flaunting their over-the-top Aspen winter getaway on social media when they could, you know, just not post about it? Crazy!
But you know…gotta sell that $7 sanitizer, right?
This article was originally published on