Kylie Jenner Has 1.3M Insta Followers For A Baby Line That Hasn't Even Launched Yet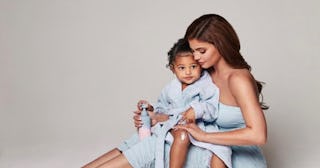 Kylie Jenner/Instagram
Kylie Jenner continues her quest for world domination with a new line of baby products called Kylie Baby
Kylie Jenner has had Instagram users buzzing about Kylie Baby for over a week and now, she's finally made it official with a new post sharing her new venture with followers.
After a week of word-free posts that featured clips of pink-hued clouds as hints, Jenner writes, "we're so excited for you and your family to try kylie baby 🤍 our safe and gentle formulas are clean, vegan, pediatrician-tested, hypoallergenic, and are designed to take extra care of sensitive skin and delicate hair. ☁️ coming 9.28 to KylieBaby.com ☁️"
If you can believe it, the Kylie Baby Instagram account has already amassed over 1.3 million followers before a single item has been sold. Because everything she touches turns to freaking gold.
The news comes with a ridiculously sweet photo of Jenner and her toddler daughter Stormi, who is about to be a big sister along with a baby mogul (assuming Stormi is involved in creating the product line, and honestly, it just seems like a Kardashian right of passage to be on the path to becoming a girl boss by age three).
Of course, Jenner is no stranger to having her own product lines. Kylie Skin and Kylie Cosmetics are already insanely popular for their skincare and makeup that fans obsess over. They're literally the reason she became a billionaire by age 21. We're sure Kylie Baby will have a similar following.
The products won't be available for sale until the official launch on September 28, but we already have a preview of what's to come thanks to a few Instagram teaser posts. We see lotion, bubble bath, shampoo and conditioner for little ones and the packaging is simply dreamy.
Now that Kylie is about to become a momma again, it's only fitting that her latest offering would cater to parents. If you want to be among the first to nab Kylie Baby products once they're live, you can sign up to receive a notification.