Kylie Jenner Reveals Stormi Was Hospitalized Over The Weekend
by Christina Marfice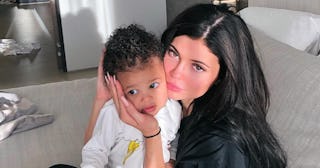 Kylie Jenner via Instagram
We're so glad to hear Kylie Jenner and her precious baby are both OK
There is not much in this world that's scarier than having a kid who's hospitalized. Moms know that when your little one is that sick and there's nothing you can do to make it better, it's one of the most terrifying and helpless feelings you'll ever have. Kylie Jenner experienced that this weekend, when her 16-month-old daughter, Stormi, was hospitalized.
Kylie revealed the scary news on her Instagram stories. Next to a photo of a sweet, sleeping Stormi, she wrote, "Spent the day in the hospital with my baby. She had an allergic reaction but is 100% okay now and we are home."
She didn't share any details about what Stormi may have had her reaction to. But she continued, "Nothing else matters when these things happen. God bless all the moms with sick babies. I'm sending so much love and positive energy your way."
We're so glad to hear that Stormi and Kylie are both OK and are back at home now. Allergic reactions, especially with kids, can mean very serious medical conditions. This is the second time one of the youngest Kardashian kids has needed medical treatment for a suspected allergy — Kim Kardashian's son, Saint West, was taken to the ER after he had a possible allergic reaction while the family was on vacation in Palm Springs.
"We went to Palm Springs and Saint, my little grandson, we discovered he might be allergic to grass. We ended up in the ER but all is well — we figured it out," Kris Jenner told Refinery29.
Clearly, Kylie is also glad that everything turned out OK. The only other thing she shared on her Instagram story, which is usually a long series of videos of her makeup, outfits, products and events, was a video of the sunset in what looked like it may be her backyard.
"Blessed beyond words," she wrote. "Thank you God. I believe in being a reflection of what you'd like to receive. If you want love, give love. If you want success, wish success."
It's clear from her Instagram posts and interviews that Kylie Jenner is head over heels in love with her little girl, whom she shares with her longtime boyfriend, Travis Scott. For Mother's Day, she posted several pictures from a photo shoot she and Stormi did together, calling the little girl "the best thing I've ever done, my greatest role in this life."
We're so glad to hear that little Stormi is A-OK, and we know her momma is too.