Kylie Jenner Fans Are Dragging Her New Swimwear Line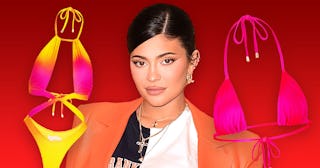 Bryan Bedder/Getty and KylieJenner.com
Fans are roasting Kylie Swim online for charging high prices for flimsy, sheer micro bikinis
To be a Kardashian/Jenner is to have an empire. Once you put out a lip kit, you gotta move into shapewear or skincare or denim, or in Kylie Jenner's case: extremely tiny bikinis that, according to fans, are sheer and basically don't fit any human body.
Though she made her name with lip kits and cosmetics, the Kylie empire has to grow, which is why the youngest Kardashian just launched back-to-back companies: Kylie Swim and Kylie Baby, but the fans are roasting her new swimwear line saying the bikinis amount to nothing more than a spider-web of thin material that Kylie is passing off as $80 swimsuits.
One fan ordered an $80 bikini and shared her review on TikTok, highlighting the see-through fabric and sloppy stitching.
The video went viral, with fans shocked that Kylie would put out such a poorly-made product.
https://www.tiktok.com/@briannaxrenee/video/7013048532038995205?is_copy_url=1&is_from_webapp=v1&refer=embed&lang=en
In an Instagram post on the Kylie Swim page, the brand says all the suits fit with a "micro" aesthetic, but another woman tried on a Kylie swimsuit on TikTok and had to wear it over a black bodysuit because, as you can see, this collection of yellow string disguised as a swimsuit does absolutely nothing to cover up a human body.
Not only does the "suit" leave a ton to be desired, the woman in the video added, "I am completely and totally disappointed that these are completely see-through." She also measured the crotch area which is apparently only 1.5 inches wide.
By the way, "micro" bathing suits are actually a thing, because I just searched Amazon for them and you can get a nearly identical barely-there swimsuit for $11 on Amazon, despite the fact that Kylie is charging $80 for hers.
"Kylie designed these for her HER body. Not the average woman," a Redditor complained. "There's no way I or anyone I know could fit into these without something slipping out. I really don't understand why she would release these given how limited bodies' could fit into them."
Fans also cannot wrap their head around the fact that Kylie, a literal billionaire, could get away with making such crappy and cheap products.
"It's obviously made from super cheap material, kylie is a billionaire and she didn't get that way making quality products and paying everyone a fair wage," wrote another Redditor. "She's clearly cut corners and these are made in factories where the workers are paid pennies and they use cheap easy to produce material. I think she's fully aware of this but is just deluded that she thinks her name alone will make these a hit."
When Kylie launched Kylie Skin, the internet trashed it online. The consensus was that it was grocery store quality skincare sold at a markup to dupe teens who love Kylie. Now with Kylie Swim getting dogged online, you have to wonder what is going on in the Kylie department of the Kardashian family, because I have purchased a bra from Kim Kardashian's SKIMS line and a bathing suit from Khloe Kardashian's Good American, and both are **chef's kiss**. Something is going on with the Kylie empire and hopefully she figures it out.