LA Paramedics Told Not To Transport COVID Patients With Low Chance Of Survival
by Cassandra Stone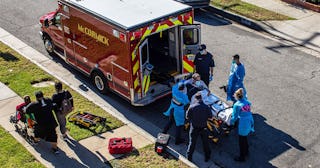 After administering him with oxygen, County of Los Angeles paramedics load a potential Covid-19 patient in the ambulance before transporting him to a hospital in Hawthorne, California on December 29, 2020. APU GOMES/AFP/Getty
A shortage of oxygen in LA is forcing paramedics to conserve the supply
Things are so dire in Southern California in regard to the latest surge of COVID-19 cases that LA paramedics have officially been instructed not to transport patients with a low chance of survival to the hospital.
The Los Angeles County Emergency Medical Services Agency issued a directive Monday instructing ambulance crews to administer supplemental oxygen only to patients whose oxygen saturation levels fall below 90%, due to a shortage of oxygen supply in the area.
Paramedics have also been told not to transfer patients who experience cardiac arrest unless "spontaneous circulation" can be restored on-scene. If a patient shows no signs of breathing or a pulse, paramedics can continue to perform resuscitation for at least 20 minutes, per the memo. If the patient is stabilized after the period of resuscitation, the patient would be then transported to a hospital.
The LA County EMS Agency implemented the directives in order to anticipate the influx of COVID patients expected to seek medical attention following Christmas and New Year's Eve. Last week, it was reported that LA hospitals were so overwhelmed with COVID patients that they were utilizing any extra hospital space they could find to treat patients — including conference rooms and gift shops.
LA hospitals "have reached a point of crisis and are having to make very tough decisions about patient care," said Dr. Christina Ghaly, the LA County director of health services, per NPR. "The volume being seen in our hospitals still represents the cases that resulted from the Thanksgiving holiday."
Ghaly says she doesn't believe that COVID cases tied to the Christmas holiday have yet begun adding to the caseload. "This, sadly, and the cases from the recent New Year's holiday, is still before us, and hospitals across the region are doing everything they can to prepare."
While resuscitation attempts are not being abandoned, performing it on patients with little to no chance of survival and transporting them to the hospitals will further overwhelm an already exhausted hospital system, the director of LA County EMS Agency, Dr. Marianne Gausche-Hill, told CBS.
"We are not abandoning resuscitation," she said. "We are absolutely doing best practice resuscitation and that is do it in the field, do it right away."
The shortage of oxygen, which is necessary for treating many COVID-19 patients, is a significant crisis in California right now. Gov. Gavin Newsome said the state is looking for ways to increase the supply while also conserving what already exists.
"We're just looking at the panoply of oxygen support … across the spectrum and looking how we can utilize more flexibility and broader distribution of these oxygen units all up and down the state, but particularly in these areas — San Joaquin Valley and Los Angeles, the larger Southern California region — that are in particular need and are under particular stress," Newsom said.
Currently, LA County has been the hardest-hit county in the U.S. — with more than 818,000 confirmed COVID cases and 10,700 deaths to date.