Lady Gaga Reveals A Family Member Was Hospitalized For Months During Pandemic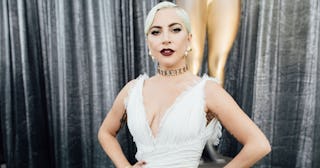 Emma McIntyre/Getty
Lady Gaga shares what it was like visiting a family member in ICU amid the coronavirus pandemic
The coronavirus pandemic has fundamentally changed the nature of healthcare. Even if you aren't sick with COVID-19, visiting or being admitted to a hospital is a whole new ordeal during the pandemic. Fears about contracting COVID-19, ICU's at full capacity, and limits on visitors has made it harder — and scarier — for someone without COVID to seek healthcare in the U.S, and in a new interview, Lady Gaga revealed for the first time that someone close to her was hospitalized for nearly two months amid the pandemic.
"I haven't spoken to this person about speaking about this publicly, but I will tell you that a very important member of my family was very, very ill recently and in the hospital for almost two months," Gaga told People on February 3, 2021. "I was in the ICU by myself many times because you can't go in with more than one person, if you can go in at all. I have never seen the heroic acts of bravery that I witnessed, watching these doctors and nurses and people that were cleaning at the hospitals."
Gaga said that experiencing what she did in that hospital gave her an even greater appreciation for the healthcare workers she met during the ordeal.
"I got to be honest. I'm about to cry on the other end of this call with you because it's really — it's doctors, it's nurses, it's essential workers," Gaga says. "They put their heart and soul into their work, and they even cared for me, who — I assure you, nobody could even recognize me behind all the gear that I had on. They just said, 'How are you doing? How is your family? Is everything okay? Can we do anything?'"
Whether it's the healthcare and essential workers she interacted with while visiting her family in the hospital for two months or the fact that her father owns a restaurant in New York that was seriously affected by the pandemic, Gaga has been moved to get involved with making life safer for workers and individuals during the pandemic. She's teamed up with the WELL Health-Safety Seal initiative, a new program that verifies if buildings have taken the necessary steps to prioritize the health of visitors during the COVID-19 crisis.
Gaga shared a video about the initiative on Instagram and essentially it boils down to this: if your local stores and buildings show a "Well Health-Safety Seal" in the window, you can rest a little easier knowing the establishment has met certain health and safety standards to keep you safer while inside the building.
"What I'm looking forward to the most is making sure that small business owners and people that work for small businesses can get back to work and live their lives," Gaga explained. "My father runs a restaurant, and I've seen the true heartache it's caused him — and watching the way that restaurant owners have suffered is something my family knows intimately."
Sending love to Gaga and her family member who was hospitalized and thanking this always-philanthropic queen for doing what she can to help.