Lady Gaga Powers Through The National Anthem & JLo Slays 'This Land Is Your Land'
by Valerie Williams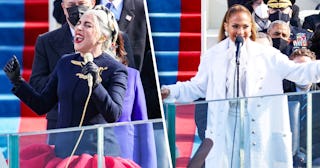 Rob Carr/Getty
Lady Gaga and JLo perform at the Inauguration of President Joe Biden and Vice President Kamala Harris, and they absolutely nailed it
For the Inauguration of President Joe Biden and Vice President Kamala Harris, the star power is very much here. The nation just got to see Lady Gaga deliver a National Anthem that will make you sob and Jennifer Lopez absolutely slayed a medley of "This Land Is Your Land" and "America the Beautiful."
Gaga wowed the crowd in a stunning red skirt and matching lipstick as her powerful voice made the tears flow. Her rendition of the National Anthem was totally flawless, as anyone who's ever attempted to belt out the classic tune knows is no small order.
Lopez brought her own emotional versions of "This Land is Your Land" and "America the Beautiful," and if any dry eyes remained after that, we have no idea how. These women lent the perfect note to all of these patriotic songs.
Of course, the internet was very much here for the performances of both absolute legends.
People were also pretty pumped to see JLo slipping in a little "Let's Get Loud" along with her patriotic tribute. She also spoke Spanish briefly, which people were very excited to see.
Basically, it was The Feels all around.
Better days are ahead and all of today's events only serve to remind us that we have a lot to feel hopeful about.