Lady Gaga Opens Up About Past Suicidal Thoughts: 'I Needed Help Earlier'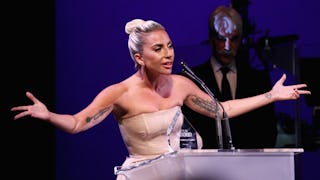 Image via Tommaso Boddi/Getty Images for SAG-AFTRA Foundatio
Lady Gaga gave an impassioned speech for mental health awareness and support, and it may be her best yet
Lady Gaga has long used her platform to talk about issues far bigger than herself, from LGBT rights to sexual assault. Her acceptance speech at the SAG-AFTRA Patron of the Artists Award fundraiser was no different — she used the entire speech to open up about her struggles with mental illness and make an impassioned plea for better mental health awareness and support.
"After years and years of saying yes to jobs, interviews, events — all opportunities, of course that I am so humbled and grateful to have had, because I know that there are so many who have not — and after working as hard as I possibly could to achieve my dreams, slowly but surely the word yes — 'Yes, sure' — became too automatic and my inner voice shutdown, which I have learned now is very unhealthy," she said. "I was not empowered to say no."
She continued that as she got busier and took less time to care for herself, she would "blackout for seconds or minutes" and "see flashes of things I was tormented by."
"There were also symptoms, symptoms of dissociation and PTSD, and I did not have a team that included mental health support," she added. "This later morphed into physical chronic pain, fibromyalgia, panic attacks, acute trauma responses, and debilitating mental spirals that have included the suicidal ideation and masochistic behavior. Okay. I'm done with my list, but that list changed my life. And it changed my life not in a good way."
The real takeaway from Gaga's message? Don't do what she did, and wait too long to ask for help.
"I'm telling you this because for me it was too late," she said. "I needed help earlier. I needed mental health care. I needed someone to see not through me or see the star that I'd become but rather see the darkness inside that I was struggling with.
"I wish I had mental health resources then because although what I have is treatable and can hopefully and will get better over time, if there was preventative mental healthcare accessible to me earlier, I believe it might not have gotten as bad as it did. I wish there had been a system in place to protect and guide me. A system in place to empower me to say no to things I felt I had to do. A system in place to empower me to stay away from toxic working environments or working with people that were of seriously questionable character."
Gaga's message is so important. And it's already resonating with fans.
What Lady Gaga says is real, and it's true. Too many people avoid seeking help for their mental illnesses until its too late. And they do it because there is still a stigma attached to mental health conversations, even in 2018. What will end that stigma is for influential people — like Lady Gaga — to keep speaking out and reminding us that mental illness does not discriminate, and any of us can find ourselves fighting it.
This isn't the first time Lady Gaga has been forthcoming about her own struggles with mental illness. In late 2016, she revealed she lives with PTSD from a sexual assault that happened when she was 19. A few months later, she wrote a powerful open letter about living with the illness.
There's still a long way to go to overcome the stigma surrounding mental illness. But with advocates like Lady Gaga, we're getting closer every day.