Lance Bass & Michael Turchin Have Welcomed Their Twins!
by Christina Marfice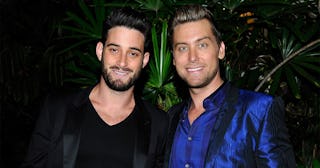 John Sciulli/Getty
Lance Bass and his husband, Michael Turchin, have been trying for years to become parents. Now, that dream has finally come true
This must be a hectic, overwhelming, sleep-deprived, incredible, wonderful week for Lance Bass. The *Nsync star and his husband, Michael Turchin, just welcomed their twin son and daughter, fulfilling a years-long dream of becoming parents.
Bass announced the babies' arrival by sharing photos of their birth certificates to Instagram, writing in the caption, "The baby dragons have arrived!!!"
He continued, "I can not express how much love I feel right now. Thank you for all the kind wishes. It meant a lot. Now, how do you change a diaper??! Ahhhhhhhh!"
The pictures, which show off both babies' adorable, tiny footprints, also reveal their names and birthdates. They are named Violet Betty and Alexander James, and they arrived in the afternoon on Wednesday Oct. 13. We can't even imagine the love and excitement in the Bass-Turchin house right now.
Bass and Turchin welcomed the babies via surrogate after being open about their struggles to start a family. Over a period of several years, they tried nine different egg donors, multiple attempted surrogacies, and failed IVF attempts. Their surrogate was even pregnant with twins last year, but tragically miscarried.
"Because of what we've been through the last four years, we were very cautious to get excited," Bass told PEOPLE magazine back in June, when they announced the pregnancy. "And it kind of sucks because when you find out you're pregnant, you want to celebrate with your family. You start planning their future in your head already, but we were so scared because we didn't want to go through the pain again of losing them. We told our friends and family about the ninth week, when we finally felt comfortable. You think you're going to jinx it or something."
But finally, the babies are here. And while we're sure Bass and Turchin would be over the moon right now no matter what, Bass actually got another wish fulfilled: For his babies to arrive before Halloween.
"They have no choice but to love Halloween because I'm obsessed and they're going to be obsessed," he told PEOPLE. Bass and Turchin even announced the pregnancy with a Halloween-themed TikTok.
https://www.tiktok.com/@lancebass/video/6968918700305042693
Congratulations to Lance Bass and Michael Turchin, who have finally achieved their dream of being dads (or, should we say Zaddies?!).