Lane Bryant's Latest Ad Campaign Reminds Us Our Big Beautiful Asses Are Sexy, Too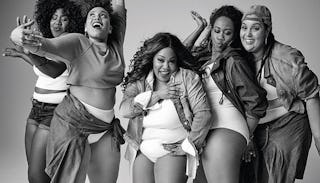 Lane Bryant's new ad campaign is killing it
Lingerie advertising is the worst. Whoever decided that women wanted to see airbrushed perfection while stripping down naked under florescent lighting to try on underwear is either a sadist or a moron. Or both.
Somewhere along the line marketing for bras and panties became about men and not about women. It became airbrushed fantasies of women pouting for the camera — not an inch of fat, flaws, or reality in sight. It became giant boobs and tiny waists and a one-size-fits-all model of sex appeal.
Well that's pretty out of touch. We exist, too. And we want some representation.
Lane Bryant is here to answer our call. They are showing women who have not been represented in the world of lingerie modeling. And good for them. It's about time we got some representation. Presumably, bras and underwear are for us too, right? So can we get some advertising that doesn't make us feel like shit?
Can I be the first to say, Hell yes!
Lane Bryant used members of the Pretty Big Dance Movement in their new ad campaign for #ThisBody — and these women are amazing.
They're not just modeling panties and bras, but can we just get a round of applause for these shots for a minute?
You know when you browse the Victoria's Secret catalog, and you find a cute bra? And then you see how it looks on their model, and they use words like full coverage and second skin satin. And then you look at the bra on the model and you think, She looks fully covered — and pretty happy about it! And then you order the bra, try it on, and cry? Yeah, that shouldn't have to happen. They are working for us. The average American woman wears a size 14 to 18. And yet we are constantly peddled this narrative that we need to look like this to wear lingerie, bikinis, or clothes that don't cover us from head-to-toe.
https://www.instagram.com/p/BQifVdSgFnq/?taken-by=victoriassecret
Is there a reason why Victoria's Secret, who makes XL sizes and bras with band sizes up to 40 and cup sizes up to DDD can't show us some women who fit into that shit?
We want to feel sexy in our underwear, too. Is that so wrong? Why in the hell do we have to measure ourselves against some totally unrealistic physical proportions every damn time we need a new bra?
We'd like to see our fat asses on glorious display, too.
Fashion designer Prabal Gurung designed the #ThisBody collection for Lane Bryant. He says, "The woman who's unafraid of how she feels about herself has always been my inspiration."
YES.
This article was originally published on