Vegas Victim Has Surprise Reunion With The Man Who Saved His Life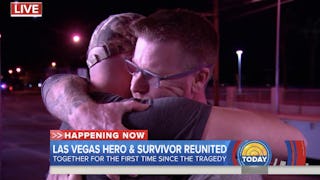 Image via TODAY
He stayed with him and helped him with his injuries
There were a lot of heroes this past Sunday night as the horrific events of the massacre outside Mandalay Bay unfolded. For one man, he not only made it to safety, he got a surprise reunion with the person who helped him along. Without him, he's sure he wouldn't be here today.
According to Today, Tom McIntosh was shot in the leg while fleeing the torrent of bullets coming from shooter Stephen Paddock's 32nd floor hotel room. Before taking his own life, Paddock killed 58 people and injured over 500 others. Thanks to the heroism of concertgoer James Lawson, McIntosh was part of the latter number instead of the first.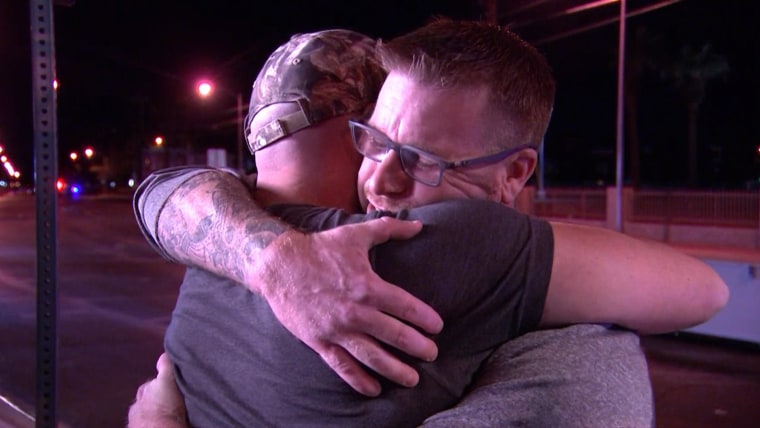 In an emotional moment alongside Today anchor Savannah Guthrie, McIntosh told his horrifying story.
He tells the all too familiar tale that so many others have relayed over the last day, of hearing the gunfire and at first mistaking it for fireworks, before realizing it was time to run. It was after McIntosh helped his wife and another woman over a wall to get away from the danger that he was shot in the leg.
"By the time I got over the wall (to safety), my pants were already soaked and my shoe was full of blood," he says. Despite his bullet wound, McIntosh had hoisted himself over the wall, but it was Lawson who helped him secure a tourniquet to his leg the right way.
Lawson, who serves in the Army Reserve, jumped into action to help McIntosh, who was in the bed of a pickup truck, with his injured leg. "It was the completely wrong spot," Lawson recounts. "I walked up there and he was actively bleeding, so I adjusted the belt, got it up where it should be, tightened it down. We stopped the bleeding and we hung out there for 10-15 minutes and some savior in a pickup truck came."
Lawson has 10 years of service in the Army Reserve along with certification as an EMT. "I never did anything with (the EMT certification) until the other night, so I didn't go through all that semester for nothing," he jokes.
And securing a proper tourniquet to staunch McIntosh's bleeding was only part of Lawson's heroic actions that night. He also provided much-needed assurance and emotional support to the injured man. "He kept not wanting to lose his foot, and I kept reassuring him of that," Lawson says, as both men chuckle at the memory.
His calm demeanor was undoubtedly helpful in his ability to help McIntosh with both his leg and his fear. "He was actually really cool about it," McIntosh said. "I was terrified."
As for his long-term prognosis, McIntosh says his leg is sore, as the bullet is lodged in his calve and he may require further surgery. But thanks to Lawson's quick thinking, it could've been much worse, and to that end, McIntosh is quick to give credit to the man who helped him. "No, I wouldn't have made it. I know it (the bleeding) wouldn't have stopped. I'm very thankful that James was there to help me."
In true hero fashion, Lawson doesn't seem to feel as though what he did is special. "There was dozens and dozens of other concertgoers doing the same thing. They couldn't leave anybody behind, they were running back towards the fire to help more people. There's got to be hundreds of stories like this one."