17 Things To Help You Finally Get Caught Up On The Laundry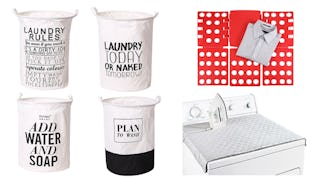 Images via Walmart
My weekend is full of fun plans. Just kidding, I'm a parent, I'm busy doing laundry.
Every parent can relate to the non-stop battle that is trying to get caught up on the laundry. Well, whether you're a "there's always a load going" person or an "I'll catch up and panic on Sunday" person, we've found some items that can help you organize before, after, and during the laundry.
This Fabric Steamer is a total game changer, and you'll never need to iron again. (And by "iron," I mean throw back in the dryer to de-wrinkle.)
Some Wrinkle Release Spray is always helpful to have on hand for the more stubborn wrinkles. (For example, the "clean" clothes that have been on your teen's bed for a month.)
For those who do iron, this Magnetic Ironing Blanket makes it easy to convert your washer/dryer into an ironing board whenever needed.
This Tide To-Go Stain Remover is great for treating new stains as well as old, set-in stains. It's a good investment that will save you time on laundry in the long run.
A Double Hamper is great for pre-sorting the whites, or even just light from dark clothes. And it has removable liners, so even if you're the only one who uses it, it will save you time.
Or there's this Collapsible Laundry Sorter if you want something that literally spells it out for the rest of the family about what goes where.
These adorable Folding Linen Hampers are easily stored when not in use, and are currently on sale for as low as $12.55. (Originally $26.55.)
This Collapsible Laundry Basket is great because you can stack and tuck away when you aren't using them. (So your kids won't fight over who gets to pretend it's a spaceship.)
This laundry Storage Rack is small enough not to be in the way, but has enough space to keep all your laundry essentials in one place.
Or if you prefer a 3-Tier Rolling Cart, this is perfect for rolling out of the way (or between the washer and drier) when not in use.
A Laundry Shelf is another great option for anyone who needs some extra room for laundry essentials but is short on space.
This Wonder Washer is perfect for small loads, hand-wash items, or for people who don't have access to an on-site washing machine. Plus, it's eco-friendly and on sale for $74.99. (Originally $108.74.)
A Ventless Clothes Dryer is great for anyone who is tired of sharing a dryer with other people. And it's on sale for $58.99 right now. (Originally $119.99.)
This Folding Drying Rack is perfect if you have things you need to be air-dried, like delicates, but is simple to fold and store.
This 7-pack of Mesh Bags has various sizes and they're great for protecting your more delicate items in the wash.
This Hanger Stacker might not seem like something you need, but it is a huge time saver to have a stack of hangers when you need them, as opposed to scattered all over the floor.
Or if folding is more of your thing, this Folding Board can help save you some serious time, while getting the perfect fold every time.
Another thing that helps kids get involved in helping with the laundry? Bribery. Even if it's something you were planning on doing anyway: "We can get pizza on Friday if you help Mommy with laundry this week." And we're here for it.
We may earn fees from purchases made via links on this page and affiliated sites. All opinions are our own.
This article was originally published on