After Her Son's Overdose Death, This Therapist Is Educating Parents On Drug-Related Emojis
by Colleen Dilthey Thomas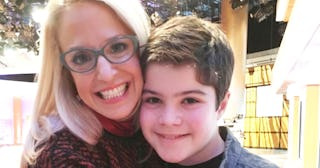 Laura Berman/Instagram
Trigger warning: child loss
The National Institute on Drug Abuse reported that in 2019 4,777 overdose deaths occurred in young adults aged 15 to 24. Among those deaths, 3,391 were due to heroin or other illicit opioids. Teenage overdose deaths continue to climb and experts are begging parents for their help to end the opioid epidemic.
Dr. Laura Berman, a relationship therapist, is warning parents of the dangers of social media in connection to her son's overdose death. Berman's son, Sammy, connected with a drug dealer on Snapchat and was sold Xanax or Percocet (toxicology pending) laced with fentanyl. He overdosed in his room while sheltering at home during the pandemic. "My heart is completely shattered and I am not sure how to keep breathing. I post this now only so that not one more kid dies," she said in an Instagram post.
Berman mentioned that Sammy was a straight A student who was getting ready for college. She warned that they watched him closely, but that the drugs were delivered to their home, purchased from a Snapchat encounter. It was drug experimentation that turned deadly.
According to the CDC, opioids, mainly synthetic, are the number one cause of overdose deaths. Among opioid involved deaths, 72.9% involve synthetic opioids. And in 2019 49,860 deaths included opioids, making up 70.6% of all drug overdose deaths.
The NIDA defines fentanyl as a powerful synthetic opioid that is similar to morphine, but 50 to 100 times more potent. It is used to treat patients with extreme pain who are often tolerant to other opioids. Fentanyl is known commonly by several names, including, Dance Fever, Friend, Goodfellas, Jackpot, Murder 8, and Tango & Cash.
Teenagers are using these common names and emojis to talk to one another about drugs. Berman posted a graphic on her Instagram feed with common drug names and the emojis teens are using in place of those names. Many followers were surprised at what they saw.
"I really had zero clue about any of this! Thank you for channeling your grief into this necessary messaging. And I'm super sorry to learn about the loss of your son," said one follower.
Others commended Berman for educating others.
"Laura Berman is getting right to the nexus of early intervention. How brilliant that she decoded lethal transactions with such benign emojis. I read everything and knew nothing of this. Spread the word. Save a life," commented another.
Her goal is to educate parents on the lingo that their teens may be using and to help them be ready if a situation arises where there may need to be an intervention. By simply knowing what to look for, parents can be better armed to help their children.
Everyday millions of teenagers are using social media. They are following content creators, engaging with friends and creating their own social media footprint. As their individual networks grow, so do the potential dangers of social media. Teenagers are impressionable and if they are not careful, they can find themselves in precarious situations online. This is where Berman wants to help.
She has started a petition to implore social media giants like Snapchat, Instagram, and Tik Tok and challenging them to allow third-party apps, such as Bark, a social media monitoring tool, to help alert parents to dangerous content in their child's social media accounts. Berman said that these apps could allow for life-saving interventions for parents and kids. "For example, if a child is expressing thoughts of suicide via social media, then a parent, who has received an alert through a third-party safety app, can immediately provide mental health support. We know from the statistics that these alerts have saved thousands of children's lives," she said. In order for these apps to work, the social media channels must give permission. Right now, Berman's petition has more than 33,000 signatures and continues to grow.
It remains to be seen what social media sites will allow in terms of monitoring. Until these types of apps are approved, it is 100% on parents to remain vigilant in monitoring our children's activity online. The world is a scary place that is not kind to kids. There are dangers lurking around every corner and while we want to trust our children, we have to be hip to what they are doing and saying. And that may mean infringing on a bit of their privacy.
There is nothing in the rulebooks that says that you can't check your kids' texts. No, it is not wrong to question who they are talking to or what they are talking about. And yes, you absolutely can — and should — follow your teens on their social media accounts. It truly could be the difference between life and death. Never be too ashamed to ask questions. You may not be the cool mom, but you'll be the informed mom. And that's the mom your child needs.