Murdered College Student Reported Her Killer To Police For Harassment Multiple Times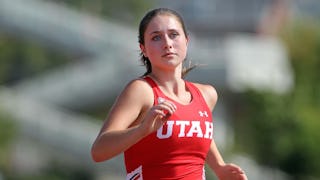 Image via Steve C. Wilson, University of Utah
College track star Lauren McCluskey previously dated her killer — and repeatedly contacted the police for help after their breakup
In the days following the shocking murder of 21-year-old track star and University of Utah student Lauren McCluskey, details show that the college senior had dated her killer — and that she contacted the police for help multiple times in the wake of their brief relationship ending.
According to reports, McCluskey had dated 37-year-old Melvin Rowland for about a month before ending the relationship when she learned that he had been lying about his name, age, and criminal history — she found out he was a registered sex offender. After the break up, she contacted university police on October 9 in an effort to recover her car from Rowland, and contacted them again on October 12 and October 13. Police reports were filed, but the details of what the reports involved aren't available.
On Monday night, Rowland allegedly shot and killed McCluskey as she was walking across campus, leaving her in the backseat of a car. Rowland fled the scene, and later shot himself in a church while being pursued by law enforcement.
McCluskey's mother, Jill McCluskey, posted an emotional statement about the death of her daughter on Twitter, giving horrific details about what happened.
Her mom stated that Lauren broke up with Rowland once she learned the truth about who he was — and that she was on the phone with her daughter on Monday night when Rowland approached. She heard her daughter shout, "No, no, no!" and then lost contact.
"That was the last I heard from her," she wrote. "My husband called 911. I kept the line open and in a few minutes, a young woman picked up the phone and said all of Lauren's things were on the ground."
The mother says Lauren tried to distance herself from the man who would ultimately take her life — and tried to get help from authorities. "She blocked his and his friends' phone numbers and complained to University of Utah police that she was being harassed," the statement reads.
Her mom also shared details about who her daughter was: a thriving student set to graduate in the spring, an extremely talented track star, and a church-goer who loved to sing. "She was dearly loved and will be greatly missed," she shares.
The University of Utah's President, Ruth V. Watkins, also released a statement about the domestic violence murder, as did the Utah Director of Athletics.
"It is with tremendous sadness that I share the news that Lauren McCluskey, an accomplished student athlete who came to the University of Utah from Pullman, Washington, was killed Monday night on our campus," Watkins wrote. "Lauren was a highly regarded member of the university's track and field team and an outstanding scholar, a senior majoring in communication."
The campus cancelled classes on Tuesday and is holding a vigil on Wednesday night. Counselors are available for the student body to talk to as the school mourns the loss.
Rowland was convicted on felony charges of enticing a minor and attempted forcible sexual abuse in 2004 and released from prison in 2004. He was a registered sex offender — and it's not clear how he had access to a firearm. According to The Washington Post, he was living in a halfway house for parolees and had already violated parole several times, even being returned to prison multiple times. A Department of Corrections official tells The Salt Lake Tribune that his agency was never notified of Lauren's complaints to police that Rowland was harassing her.
During a 2012 hearing, Rowland said, "I'd say every woman I met or that I came across I used my manipulation tactics to get what I wanted."
Nearly three women are killed by their intimate partners each day in the United States. The Centers for Disease Control (CDC) found that 55 percent of murdered females in the US are killed by current or former intimate partners — and that domestic violence and dating violence are a significant threat to women. Women are the victims in 80 percent of fatal domestic violence incidents.
You may call the National Domestic Violence Hotline 24 hours a day, at 1-866-331-9474, or text or text "loveis" to 22522. More resources regarding teen dating violence can be found here.