Behind The Scenes Law & Order Spinoff Photos Are Here To Make Life Better
by Christina Marfice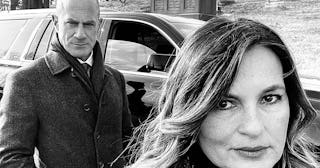 Mariska Hargitay/Instagram
Mariska Hargitay and Chris Meloni are back together on Law & Order — and making it Instagram official
We've all endured a pretty rough last year, but finally, there's some light at the end of the tunnel. Joe Biden is the president now. Coronavirus vaccines are here and being distributed to more Americans every day. And a Law & Order spinoff is coming that will reunite Detectives Benson and Stabler. Hallelujah!
Mariska Hargitay and Chris Meloni are reprising their iconic roles for a new spin-off series called Law & Order: Organized Crime. Filming is well underway, and the show is set to start airing sometime this spring. But in the meantime, Mariska and Chris know what we want. They know what we need. They know they have the power to make all of America's day collectively a little better. So, you guessed it. They're sharing behind-the-scenes photos from on set.
Hargitay just shared a carousel of photos this week, including one of her and Meloni giving some signature mean mugs to the camera, and a few shots of their "Benson" and "Stabler" chairs next to each other on set. "It's all happening," she wrote in the caption. Yeah it is, and we could not be more here for it.
Meloni has also been posting behind-the-scenes pics of his own. Yesterday, he posted this shot of the sign on his dressing room door that reads, "Law & Order: Organized Crime" and "Elliot Stabler."
And earlier this month, he shared this shot of himself and who we can only imagine is his very favorite co-star of all time, Hargitay, on set.
"We are a little bit closer," he wrote. Get it? They're closer physically, but also, he's probably referring to the fact that the show is a little bit closer to airing and giving fans the reunion we've been waiting and hoping and wishing for for years.
Hargitay and Meloni were the two original cast members on Law & Order: SVU when it premiered in 1999, and their chemistry is like, 98% of why that show became an enduring hit. Meloni left the show in 2011, and SVU fans' hearts broke everywhere. That means this new spinoff will be the first time Benson and Stabler have been onscreen together in almost a decade. We're ready for it, to say the least.