Lawmaker Proposes Dress Code For Parents Visiting Their Kids' School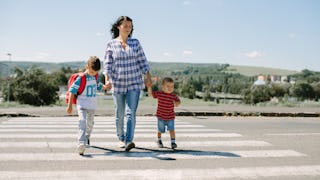 Image via Branislav Novak/EyeEm/Getty Images
Memphis lawmaker thinks that parents should be have to follow rules of dress and behavior in Tennessee schools
State representative Antonio Parkinson has proposed a new bill in Tennessee that would lay out rules for how parents can dress and how they behave when they're on school grounds – and he's getting national attention for it.
The bill would outline inappropriate items of clothing and styles of dress as well as acceptable behavior for parents who have entered the school building for meetings, activities, school drop-off, and other reasons. Schools in each district would be allowed to write their own rules regarding the issues of parental behavior and dress.
"[It] said something to the effect of 'Breaking news: Due to the expected low temperatures, school leaders are telling parents to put on two pairs of pajamas when they pick their kids up,'" Parkinson told Today. "That meme led to a conversation with one of my constituents during which I learned about some of her concerns about the way that parents dressed at school. That opened up a conversation, and I then got on the phone with some of the leaders in my district and learned how big of a problem it really was."
May the person who has not worn pajamas in the drop off line in school cast the first stone, we guess.
But Parkinson said the problem is much worse than just moms and dads not quite prepared for the day.
"People wearing next to nothing. People wearing shirts or tattoos with expletives. People coming onto a school campus and cursing the principal or the teacher out. These things happen regularly," Parkinson said. "A principal I talked to told me a lady came into the office with her sleepwear on with some of her body parts hanging out. You got children coming down the hall in a line and they can possibly see this."
He also wanted to stress that the new rules for parents wouldn't just be about how they looked, but how they acted while on school property.
"Whether you're there to work, whether you're a teacher, a parent, a vendor, a visitor, a speaker — anyone who steps on a school campus should be held to a basic minimum expectation of conduct and behavior. That includes how one dresses," he said.
While some people have voiced support for the new dress code bill, which would, for instance, disallow parents from showing up to teacher conferences drunk, others fear that it will be no different than student dress codes, which have been widely found to be sexist, racist and homophobic, not to mention super unfair to people from different socioeconomic classes.
Others have brought up the important related point that these rules could keep impoverished parents out of the schools and not as engaged with their kids or the community.
"If you start putting in dress codes you're gonna think, particularly low-income people, may feel like that they're not dressed well enough to go to the classroom," former educator and Executive Director of Professional Educators of Tennessee J.C. Bowman told WTVC. "They don't want to embarrass their kids."
Other parents simply think the bill is a waste of time in a school system that has a lot of bigger problems to tackle.
"Luckily, my daughter goes to a very good school, but Tennessee ranks so low in education in this country. Are we really going to get on parents for their clothes?" Local mom Cecilia Batson told Today. "We can't even give our kids a decent education, but we're going to tell parents what they can and can't wear? If the kid is fed and cared for and loved and taken care of, who cares how their parents dress?"
There's also a big question about how a parent dress code could possibly be enforced successfully – it's not like you can put parents in detention or make them sit inside at recess.
According to USA TODAY, the bill is still in the drafting stages, but it could go up for a vote as early as July, and be implemented in the schools as early as the fall of 2020.
This article was originally published on