Lay's Insanely Popular 'Fried Pickles With Ranch' Chips Are Back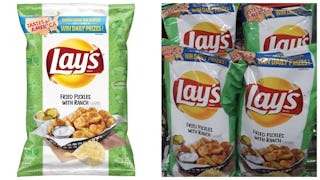 Image via SamsClub.Com/Instagram
Pickles. Ranch. Chips. Could this be any better?
Last summer, Lay's released a huge line of limited-time chip flavors based on hometown favorites across the U.S. One of those flavors, the "Fried Pickles With Ranch" flavor, was incredibly popular — and now it's back.
You can now officially find these tasty chips at Sam's Club.
The "Fried Pickles With Ranch" flavor was part of Lay's Tates of America lineup, based on their "Do Us A Flavor" contest. Other…interesting flavors chosen as finalists in this contest were Chili Con Queso, Chesapeake Bay Crab Spice, Deep Dish Pizza, New England Lobster Roll, Thai Sweet Chili, and Pimento Cheese.
The "Fried Pickles With Ranch" was inspired by a deep-fried favorite of Midwesterners at state fairs. I cannot vouch for these chips, but as someone who has visited Ohio multiple times, I can vouch for fried pickles dipped in ranch. I want to feel shame, but I don't. It sounds gross, but it's delicious AF.
These bags will set you back $3.49 at Sam's Club, which, come on, is a helluva deal for a limited time offer. It's cheaper than the real thing, if memory serves me correctly.
People seem to be pretty jazzed about the return of these chips, which were only supposed to be a summertime thing.
A review of these "Fried Pickles With Ranch" chips at The Impulsive Buy says the pickle flavor is strong for the first few chips, then kinda dulls out after several bites: "It's a vicious circle for those who love pickle-flavored chips, but, I guess, heaven for those who love ranch-flavored snacks. There's a hint of dill in the aftertaste with the ranch-strong ones, but I wish EVERY CHIP had a better balance."
If you've ever had a love affair with salt and vinegar chips, you know exactly what that means. But that's not to say these chips aren't tasty AF, though.
No word on how long Sam's Club will have these babies for sale, so get your fried pickle on and order all the bags you want while you can.
This article was originally published on