We Could All Learn Something From The Mom Who Lost It In The Parking Lot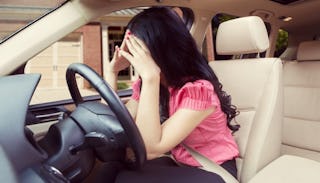 CreativaImages / iStock
Sitting in the middle school parking lot one day while waiting for my son, a woman pulled up a few spots away from me. I could feel her energy right away. She had pulled in like a bat straight out of hell, and sat in her car screaming — to herself. There was no one else in the parking lot except me, and clearly she didn't even know I was there as she vented all her pent up ire. Of course I looked; actually I gawked. She thought she was alone and she was wild, so I liked her straight away.
"WHAT THE FUCK IS WRONG WITH EVERYONE? I WAS JUST TRYING TO BE NICE AND LET ALL THE SCHOOL BUSES GO AHEAD OF ME!"
Yes, sing it sister. I hear ya. Let it all out.
"MAYBE IF PEOPLE WEREN'T SUCH OBNOXIOUS ASSHOLES THEY COULD SLOW DOWN AND DO SOMETHING NICE TOO. SHIT!"
Mmmmhmmm, preach, mama.
I was staring straight at her but she still didn't see me. Should I go over and introduce myself?
"I ALWAYS DO THE RIGHT THING. JESUS CHRIST. THIS IS THE THANKS I GET. I HATE THIS DAY. I HATE THIS WEEK!"
She flipped down her mirror and what looked like 20 envelopes came tumbling down all over her. One got wedged in her sunglasses. "FUCK!"
Okay, I should not go over and meet her. That might not be a smart move right at this moment. I did, however, continue to eavesdrop. I am sure she needed someone to hear and I could. Loud and clear.
She looked at herself in the mirror, propped her sunglasses on her head and swiped under her eyes. "COULD THIS DAY GET ANY WORSE? NO! I CAN'T FUCKING TAKE ANYMORE. NO MORE BEING SO NICE. NO MORE SAYING YES!"
Maybe I should offer her the wine I just bought? It's just sitting there in my trunk, after all. No, that would be inappropriate since we were waiting for our kids in a school parking lot. Swigging from a bottle of wine to ease her pain would be fun, yet illegal, so getting caught could potentially make her day much worse. Also, I needed the wine for later. What if she grabbed it and drove away? Then I would be mad. Not a good idea; better just stay put.
She continued to yell as she reapplied her lip gloss. She was a nice lady who apparently had been nice for too long, and doing a good deed (like pulling over to let 25 school buses blow through the stop sign) had been met with a hostile response from others. As I listened to her completely lose her shit in what she thought was the relative privacy of her front seat, I realized something. We have all been her. Maybe we had never lost it in a parking lot when we thought we were alone, but we have all wanted to at one time or another.
We have all been set off by a tiny thing that felt so big that it instantly undid everything good about our day. She was kind, she had taken on too much, she had said "yes" one too many times. She was done. But she was still trying to pull herself together because that's what we do. We pick ourselves back up and we keep moving forward.
She gave herself another look in the mirror before flipping it back in place and shoving all the bills back. "Damn," she let out one last cry and she ran her hands through her hair. Her daughter walked up to the car, threw herself into the passenger seat and slumped down. I could tell by her body language that she too was having a shitty day.
In less than 60 seconds, the mom in the parking lot had taken care of herself. She let it all out, reapplied her lipstick, fixed her hair and pulled it together so she could focus on her daughter. She is my hero, and I have thought about her every day since.
She reminded me the effect we can have on others. That we have to slow down, to be kind — but not too kind, lest you turn into a doormat. We all have to go off the rails sometimes. And then we have to pull ourselves back together and get shit done.
This article was originally published on