This 'Leave Me The F*ck Alone' Sweater Is A Mom's Dream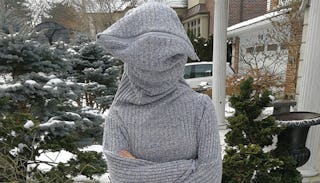 If you need a few moments of peace, this 'Leave Me Alone' Sweater is for you
Looking for a piece of clothing that can literally swallow you whole, closing you off from the rest of the world when you need a little alone time? Ideal for the introvert, person who regularly sticks their foot in their mouth (hello) or exhausted mother hiding away from her children. So, basically every mother.
If this describes you, look no further than Ruth Grace Wong's "Leave Me Alone Sweater." Freezing cold at work one day, Ruth set out to produce a convertible sweater that could be worn three ways: cowl neck, off the shoulder, and everyone's personal favorite "Leave me alone!"
According to Ruth, the sweater gives people the freedom to be left alone instantly, "whether you're at an airport, bus stop, or party." The sweater/tunic combo, which can be quickly zipped up over your face should you require a few moments to yourself, "is long enough to be pants-optional, too!" Meow.
Scary Mommy spoke to Ruth about the most common feedback she's received from women and, as you can imagine, there is one resounding suggestion she's heard over and over: "Does it come in black?"
We are so predictable.
Ruth said she's also considering featuring "eye holes, bright colored zippered mouths for breathing while in 'leave me alone' mode and offering the sweater in multiple colors" based on additional buyer feedback. As a mother, might I suggest children's sizes sans mouth holes? Like a tiny, portable time-out station parents can bring with them everywhere they go.
The positive feedback received online should only serve to help Ruth's funding effort, supported by voting up her prototype design and commenting on her Betabrand page.
"I want 30," one fan writes.
"Due to how easily I get annoyed with humans, I'd love a men's version. PLEASE?!?!"
"My wife would wear this closed most of the day, I think."
"I am looking at this while listening to my children fight in the kitchen. Wishing I could zip myself up in this magical creation now." (OK, I wrote this one)
Once she receives enough votes, the Betabrand crowdfunding site will design her product, and patrons can save up to 30% on the items they vote for, buying from their website direct. We can only hope that she gets enough support to put this little gem into production so that, ahem, some of us moms can zip all the way up during the upcoming spring choir concert season.
In fact, I was in a very crowded public restroom with my 5 year old this past weekend and her magical creation would have come in REAL handy during the following exchange:
Me (holding bathroom stall door closed): Everything going okay in there, bud?
Him (yelling): Did you know if you bend over while you was pooping, you can watch the poop coming out of your butt?
Short of a sinkhole opening up and swallowing me whole, Ruth's Leave Me Alone sweater would have come in really handy. And I have three of those little angels at home. I'm going to need this sweater in every color it comes in.
If you'd like to buy a Leave Me Alone sweater someday, please vote for Ruth's design on her Betabrand page.
This article was originally published on