Leave Meghan Markle TF Alone
by Elisha Beach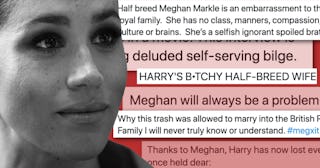 CLODAGH KILCOYNE/Getty/Twitter/Scary Mommy
If you are surprised that Meghan Markle and Prince Harry have followed through with their exit from the working monarchy, you have not been paying attention. Since their relationship was made public, the British press has targeted Markle with an obvious undercurrent of racism, classism, and sexism. To the point that she had to sue a press outlet for an invasion of privacy.
On top of that, who knows what she actually had to deal with behind the closed doors of the palace. And now, surprise, the mixed-race Duchess is being accused of "bullying" former staff just days before her tell-all sit down with Oprah. Really?!?! How about this — leave Meghan Markle TF alone so she can enjoy her husband and growing family in peace.
It's funny because it seems to me Meghan is the one that has been bullied for much of her time as the Duchess of Sussex. The racism and sexism that she has faced since the announcement of her engagement are well documented. But because much of it is subtle microaggressions and not overt, many people, Brits especially, are hesitant to call the treatment of Meghan Markle what it is: racist.
The press has dragged Meghan for everything from her nail polish color to the way she holds her baby bump. Certain media outlets love using the good 'ol "Jezebel" stereotype and have referred to Meghan as "a tease," "racy," "Harry's Hottie," and someone with "rich, exotic DNA." Her mother was called a "dreadlocked African-American lady from the wrong side of the tracks" instead of the multi-degreed, marathon running badass she is. Oh, and let's not overlook the fact that a BBC host compared baby Archie to a chimpanzee.
Still not convinced? A charity cookbook that she wrote the forward for was somehow entirely attributed to her by the media and was portrayed as helping terrorists. And according to The Daily Mail UK, an afternoon meal of avocado toast and tea with a friend was possibly "fueling human rights abuses, drought, and murder." And the media outlet even went so far as to publish the article "From Slaves To Royalty, Meghan Markle's Upwardly Mobile Family" just to remind us that the Duchess of Sussex is a descendant of slaves.
Now come the accusations of bullying. And if you have ever been a Black woman in any position of power or influence, this story probably sounds all too familiar. And if you haven't, please spare us the 'splaining of how this has nothing to do with race.
The stereotype of the "angry Black woman" has long been used to undermine Black women. Being assertive or outspoken can get a woman of color labeled as "angry." Having ambition or showing authority is easily equated to being "overbearing" or "hostile." And pointing out a wrongdoing or suggesting a change can come with the labels of being "demanding," "uppity," or "ungrateful."
This racist stereotype perpetuates the idea that Black women (like Meghan Markle) don't belong in certain spaces (like a royal palace) and therefore have no right to place any demands in those spaces. And it leaves Black women trying to navigate a landmine of racism, sexism, and misogyny without falling victim to the trap of being labeled the "angry Black woman." And god forbid a Black woman actually get angry for being disrespected, wronged, or stereotyped. That just can't be tolerated (and please read the sarcasm between the lines).
Now I don't know exactly what happened, but frankly, this whole alleged "bullying" situation with Meghan Markle reeks of all the aforementioned. In descriptions of the bullying allegations, the Duchess is described as "demanding" and accused of "emotional cruelty and manipulation." It has been reported that two palace aides claimed to have moments where they felt "terrified" and "broken" while working for the Duchess. And personal assistant Melissa Toubati was "driven to tears."
The Daily Mail UK went so far as to suggest that staff members allegedly bullied "may have a form of post-traumatic stress" and likened their experiences to "soldiers who have undergone traumatic experiences on the battlefield." And now the Queen herself is ordering an investigation into the accusations of bullying and harassment. And I don't know about you, but as a Black woman, this all seems quite a bit overdramatized to me.
Unfortunately, a white person assuming the victim's role after a Black woman asserts herself is a more common occurrence than most will admit. There is even a name for it: white fragility. And author and Historian Alex Brown best explained it in a since-deleted tweet. She stated, "Lissen, every Black woman has been in a situation where a white person (usually a woman) has accused her of being aggressive simply for stating an opinion that doesn't center the white person's feelings. I give no credence to reports of Meghan Markle being a bully. Not an ounce."
Meghan isn't the first woman of color to be accused of being a bully, and she definitely won't be the last. And many would argue that she signed up for all that comes along with being in the public eye when she married Prince Harry. But nobody should be asked to put up with the level of scrutiny that Meghan Markle has had to endure. She deserves the opportunity to share her side of the story. And once she says her piece, I hope everyone will leave her TF alone.