LeBron James Surprises High School Students With New Gear And Locker Rooms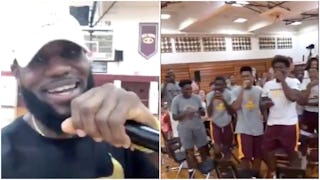 Image via @KingJames/Twitter
LeBron James gifted high school students with a new locker room and Nike gear
2018 is officially the summer of LeBron James. First, the basketball all-star opened up an amazing school for at-risk youth in his hometown of Akron, Ohio. Then, just yesterday, James surprised a high school's boys and girls basketball teams with new locker rooms and sports gear. So yup, MVP of the century right there.
The basketball players of Christ the King, a Catholic high school in Queens, had no idea that the sports legend would be dropping by their gym that day. Hence, the chorus of screaming, jumping, arm clutching, and abundance of beaming that went down as soon as James walked into the room. Prepare yourself for 32 seconds of pure, unadulterated joy.
Okay, now let's watch the video that James shot while he was walking in. Just LOOK at their faces.
But wasn't all. He also gifted the students with ridiculously nice new locker rooms along with his recently released "CTK" Nike Zoom sneakers and jerseys in their school colors.
Oh yeah, and there was an extremely cute handshake moment that went down between him and a tiny tot on the basketball court.
If your heart is currently melting, you're not alone. The rest of the internet was a puddle of happiness as well, and everyone had only the nicest things to say about James.
https://twitter.com/jetpack/status/1037144296887967744https://twitter.com/jetpack/status/1037148017504075777
This is just one example of the many, many times that James has done something incredible for kids. Back in 2015, he teamed up with the University of Akron to start a four-year scholarship program for 1,100 students in need. "These students have big dreams, and I'm happy to do everything I can to help them get there," he said, per Fox Sports. "They're going to have to earn it, but I'm excited to see what these kids can accomplish knowing that college is in their futures."
The basketball star added that he knows what it feels like to not view college as a financial reality.
"It means so much because, as a kid growing up in the inner city and a lot of African-American kids, you don't really think past high school," he said. "You don't really know your future. You hear high school all the time, and you graduate high school and then you never think past that because either it's not possible or your family's not financially stable to even be able to support a kid going to college."
*Sigh.* LeBron James is such a champion on and off the court. More stories like this please.