'Legally Blonde 3' Release Date Announced During Cast Reunion
by Madison Vanderberg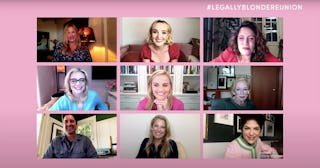 Reese Witherspoon x Hello Sunshine/Youtube
Reese Witherspoon and the entire Legally Blonde cast reunited on Zoom for the first time in almost 20 years
It's been almost 20 years (omg what?!) since Elle Woods first stepped onto the Harvard campus in a little film called Legally Blonde (and the second installment in 2003) and because we do deserve some nice things, the cast is getting back together to make a third Legally Blonde movie, and yae! We actually knew about this back in May 2020 when it was announced that Reese Witherspoon's pal Mindy Kaling would write the script, but thanks to an impromptu Legally Blonde Zoom reunion on Tuesday, October 20, 2020, we now know that the third installment in the series, Legally Blonde 3 — the second film in the series was Legally Blonde 2: Red, White, & Blonde, but we don't speak of that one — is dropping May 2022!
While we wait a year and a half for the next Legally Blonde flick, the cast got together to fill the void with a cute little Zoom reunion hosted by Saturday Night Live's Chloe Fineman, who does an incredible Elle Woods impression, by the way. The reunion, which benefitted World Central Kitchen, brought together Witherspoon, Selma Blair (Vivian Kensington), Jessica Cauffiel (Margot), Jennifer Coolidge (Paulette Bonafonté), Matthew Davis (Warner Huntington III), Ali Larter (Brooke Taylor Windham), Holland Taylor (Professor Stromwell), Alanna Ubach (Serena McGuire), and Luke Wilson (Emmett Richmond).
https://www.instagram.com/p/CGh9Mk-gSMk/
During the 22-minute reunion, Witherspoon cried as each cast member was announced and couldn't stop marveling at how "handsome" Luke Wilson still is. The cast reminisced about the movie, shared audition secrets, and even did the bend and snap, which is still cute, even on Zoom.
Matthew David, who played Warner, said that after the movie came out, people would stop him on the street and say, "Hey! You're the asshole from Legally Blonde!" and Selma Blair said that her entire audition for the role consisted of doing her signature smize, and nothing else.
Not much else about the upcoming movie was shared during the reunion — besides the May 2022 release date — but Deadline previously reported that Kaling's take on the film will have an "entirely new fresh spin." Check out the entire virtual reunion special below.
Kay, gonna make an advent calendar that lasts until May 2022, byeeee.