7-Year-Old Writes Lego After Losing His Minifigure And Their Response Is Epic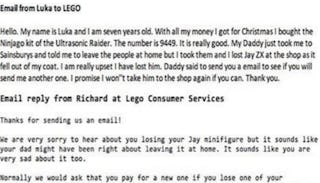 Image via Twitter
Hero LEGO customer service rep helps out seven-year-old who lost his favorite piece
Everyone loves LEGO, except maybe the legions of parents who've felt the pain of stepping on an errant piece. Now, thanks to the efforts of a dedicated customer service rep, there is more reason than ever to appreciate the popular toy company.
Aside from being the painful blight of barefoot parents everywhere, the other common LEGO pitfall is losing the tiny pieces. And that's exactly what happened to seven-year-old Luka when he took his favorite Ninjago figure to the grocery store, despite his father's warning that it's not a good idea. Luka, who'd saved up all of his Christmas money to buy the Ninjago Ultrasonic Raider LEGO set, wasn't willing to let it go.
According to Babble, Luka followed his Dad's advice (for once!) and wrote to LEGO seeking some help. The little boy owned up to his mistake, and the fact that he'd ignored his dad when taking his beloved Ninjago Jay ZX figure to the store.
"Hello. My name is Luka and I am seven years old. With all my money I got for Christmas I bought the Ninjago kit of the Ultrasonic Raider. The number is 9449. It is really good. My Daddy just took me to Sainsburys and told me to leave the people at home but I took them and I lost Jay ZX at the shop as it fell out of my coat. I am really upset I have lost him. Daddy said to send you a email to see if you will send me another one. I promise I won't take him to the shop again if you can. Thank you."
If Luka's dad is anything like me, he was probably pretty frustrated, and didn't expect much to come of the letter. But good on him for encouraging his kid to reach out, while also taking responsibility for his mistake. And despite dad's probable desire that Luka remain bereft – just to teach him a lesson! – LEGO came through, and then some.
Richard, a dedicated customer service rep, heard Luka's plea and delivered – with a little help from Ninjago's Sensei Wu.
"Normally we would ask that you pay for a new one if you lose one of your minifigures and need to have it replaced. My bosses told me I could not send you one out for free because you lost it but, I decided that I would put a call into Sensei Wu to see if he could help me.
Luka, I told Sensei Wu that losing your Jay minifigure was purely an accident and that you would never ever ever let it happen ever again. He told me to tell you, 'Luka your father seems like a very wise man. You must always protect your Ninjago minifigures like the dragons protect the Weapons of Spinjitzu!' Sensei Wu also told me it was ok if I sent you a new Jay and told me it would be okay if I included something extra for you because anyone that saves their Christmas money to buy the Ultrasonic Raider must be a really big Ninjago fan."
Not only will Luka be getting a replacement piece, but he'll also be receiving an extra toy.
"I hope you enjoy your Jay minifigure with all his weapons. You will actually have the only Jay minifigure that combines 3 different Jays into one! I am also going to send you a bad guy for him to fight!"
Score one for Luka! And here's to LEGO, and Richard, for responding in such a fun way. Last but not least, score one for Luka's dad, who not only got his seven-year-old to listen to him, he got more toys to potentially curse at the next time he goes to grab some milk in the middle of the night.
Read the full exchange below, courtesy of Scott Kerr from Time's twitter feed.
This article was originally published on