Lenny Kravitz Calls Jason Momoa 'A Brother' In Their Blended Family
by Cassandra Stone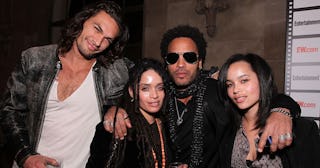 Alexandra Wyman/WireImage
Lenny Kravitz, Lisa Bonet, and Jason Momoa are all doing something right here
Blended families take work. Major work. Ex-spouses and step-parents aren't always the ingredients for a harmonious cocktail, that's for sure. But when families can get to the point of respect and making sure the kids' needs come first, and they can truly, well, blend, it's a beautiful thing. As evidenced in a recent interview with Lenny Kravitz about his own family.
Kravitz opened up to The Times about his blended family, which includes the "beautiful" relationship he shares with his ex-wife, Lisa Bonet, and her husband, Jason Momoa. Kravitz and Bonet were married back in the early '90s and share daughter Zoe Kravitz (aka Badass Bonnie from Big Little Lies). In addition to Zoe, Bonet and Momoa have two children together, Lola, 12, and Nakoa-Wolf, 10.
He doesn't deny that achieving this type of peace isn't easy and they take a fair amount time, but he's clearly proud of the results. "We took the time so that we could become best friends again," he says. "Our families are blended. I love her husband ― he's like a brother to me ― and I love the kids. It's beautiful, but it takes work."
Back in 2013 during a sit-down with the one and only Oprah, Kravitz shared that they're all pretty much one big, happy family. "It just shows you what can be done," he said at the time.
Back in December, Momoa posted a photo on Instagram of himself with Kravitz showing off their matching rings — Momoa gave one to Kravitz to match one of his own.
Zoe Kravitz even refers to Momoa as "Papa Bear" on her Instagram account. And during her recent wedding to fellow actor Karl Glusman, both of her dads were, of course, in attendance.
This beautiful family (inside, yes, but especially on the outside — I mean, come on) is one heck of a solid example of all the good that can come when you have functional, happy adults who want to ensure their children are functional and happy as well.