Couple Announces They're Both Having Baby Boys -- Only 3 Weeks Apart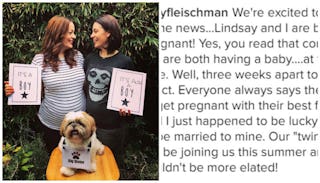 Image via Instagram/Toby Fleischman
"Our 'twin' boys will be joining us this summer and we couldn't be more elated!"
Women often fantasize about what it would be like to be pregnant at the same time as their sister or best friend. You'd get to lean on each other for everything baby-related (and eat tubs of ice cream together). Sounds like a dream, but for one pair of besties, aka a married couple, that dream is reality.
Toby Fleischman and her wife Lindsay Lanciault are both pregnant. Their story is captivating, not only because it's so incredibly cute, but also because they're raising awareness about how LGBTQ couples grow their families.
The couple took to Instagram to make their precious announcement. One's holding up a sign saying, "It's a boy" as the other's sign says, "It's also a boy." And their dog has a sign that says, "Big sister." The kicker – both are due this summer, just three weeks apart.
"Everyone always says they want to get pregnant with their best friend and I just happened to be lucky enough to be married to mine," Fleischman writes in the caption. "Our 'twin' boys will be joining us this summer and we couldn't be more elated!"
These two have a lot to celebrate obviously, but this journey to motherhood wasn't always so jolly. It can be hard for any couple to conceive, but LGBTQ families often face unique challenges we don't hear about much.
The expecting moms told PopSugar that Fleischman, the older of the two, was planning on getting pregnant first because her window to conceive was smaller. She did get pregnant, but sadly, it ended in miscarriage. Compounding that devastating news, other complications cropped up which forced the women to find a new sperm donor. Like many couples struggling to conceive, the two admit they experienced stress and tension in their relationship for a period of time.
Eventually, the couple decided to try new attempts at getting pregnant which involved shifting the focus onto Lanciault and trying to get her pregnant. Inevitably, negative and jealous feelings arose in the process, which is totally normal, but not often talked about.
"I wish more women had spoken openly to me about it before and during our process. It wasn't until I started sharing the details with some friends that I learned I wasn't alone," Fleischman tells Babble.
With the help of fertility experts, the couple were able to overcome all of that and redirected their energy to both of them trying to have a baby. Fleischman found out she was pregnant in November after two years of struggling to conceive. This was right around the time that Lanciault was starting to try. As luck would have it, Lanciault got pregnant a few weeks later. Both had used the same sperm donor.
Their story highlights why we need to be more aware and sensitive to the fact that couples go through fertility issues, and sometimes what we say can be extremely hurtful.
"People think it's okay to ask a woman who is maybe of childbearing years or who just got married, 'Are you going to start trying soon?' But you don't know if they actually have been trying. You don't know what their situation is. We've gotten that 'When are you going to start?' question and it's like . . . we've been trying for six months. You don't know what somebody's going through," Lanciault says.
Beyond their hurdles and unique fertility struggles, the couple is facing some pretty typical pregnancy related hormonal struggles. Well, times two, more accurately.
Fleischman said, "[We] go through waves — in one day — of being obsessed and in love with each other and so euphoric to 'I don't want to be next to you. Please don't talk to me.'"
Sounds about right. We wish them the best of luck.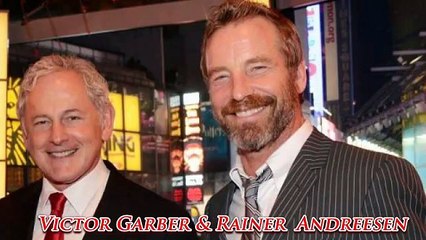 This article was originally published on