SNL's Leslie Jones Blasts Abortion Bans: 'You Can't Tell Me What To Do With My Body'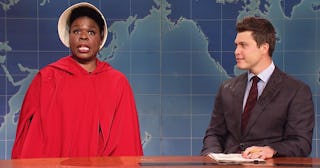 NBC
Leslie Jones has some THOUGHTS about all the men who have enforced these new abortion laws
Like many of us, Leslie Jones is mad as hell and not going to take it anymore. The Saturday Night Live comedian appeared on Weekend Update to tear into the ignorance, sexism, and cruelty of all of these horrible abortion bans. Bonus points – she was wearing a shirt that said "mine" with an arrow pointing to her crotch.
A quick, painful refresher: Kentucky, Mississippi, Ohio, and Georgia have all signed laws that make abortion illegal at fetal heartbeat, which can be as little as six weeks. Missouri followed suit with an eight week abortion ban and Louisiana is now considering similar action.
It's no wonder Jones appeared on Weekend Update in a costume straight out of The Handmaid's Tale. "Well, basically, we're all handmaids now," she said. "This is how it starts. I'm out living my life, and then I see on the news [that] a bunch of states are trying to ban abortion and tell me what I can and can't do with my body."
She went on to explain that these sorts of restrictions on women's choices and bodies are a slippery, dangerous slope. "Next thing you know, I'm in Starbucks and they won't take my credit card because I'm a woman — instead of the regular reason, which is, I don't have no money on there." Jones said.
Then, she threw up a picture of the twenty-five MALE Alabama senators who voted for the abortion restrictions. You better believe she had jokes about those guys.
"This look like the casting call of a Lipitor commercial," Jones said. "This look like the mug shots of everyone arrested at a massage parlor. You can't control women because I don't know if y'all heard, but women are the same as humans."
She added that if any of them actually had lips, she would ask them to kiss her ass. Oh yeah, and then she made the following Game of Thrones reference, so all men who are trying to restrict a woman's choice should probaaaaably watch out…
Jones called these laws a "war on woman" and promised solidarity with everyone dealing with these new, scary changes.
"If you're a woman out there and you feel scared or confused, just know that you're not alone," she said. "There's so many women out there who've got your back, especially me, Leslie Dracarys That Bitch Jones. You can't tell me what to do with my body. You can't make me small or put me in a box."
No, but literally, you can't put her in a box. "I'm six feet tall and 233 pounds," Jones explained. "Ain't no box big enough to hold me. And I know, cause one time I tried to mail myself to a dude."
Twitter was here for her jokes, her anger, her fierceness, and her fight. Even Sansa Stark (aka Sophie Turner) chimed in, writing: "YES @Lesdoggg SPEAK THA MUTHAFUCKIN TRUTH."
All bow down to Leslie Dracarys Jones. It's really, really good to have her in our corner.
This article was originally published on