Lester Holt's 'Nightly News Kids Edition' Debuts On NBC With Voting, Halloween Special
by Julie Scagell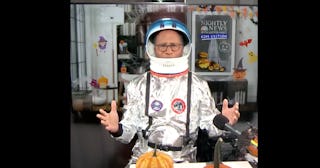 Nightly News Kids Edition/NBC
All the while, Holt was dressed up as an astronaut
NBC anchor and resident hottie Lester Holt hosted the first broadcast edition of his popular digital series Nightly News Kids Edition this morning on NBC. In it, he talks voting, pumpkins, and inspirational kids.
Just three days ahead of the historic election, Holt talked to kids about the voting process and the importance of every single vote — specifically the importance of young people's voices in this and every election. Of course, it's also Halloween, so Holt also hosted a virtual Halloween costume parade and a pumpkin science experiment.
The 30-minute program also featured an "Inspiring Kids" segment as well as useful tips for children about wearing masks. Of course, the pandemic did produce at least one good thing — pandemic puppies — and Holt will feature a segment on the adorable family additions. Just like the digital broadcast, Holt will also answer questions submitted by children on what they're most curious about.
Nightly News: Kids Edition has been streaming every week on NBCNews.com since its debut in April. The network understands the importance of educating and delivering programming for younger audiences, especially in a year with a pandemic, racial unrest, and an election that feels like the most important in recent history.
"It's been fun for us to try to encapsulate the big stories and themes of the week," Holt said of the show. "It has been the little engine that could. It was an idea among a few people at Nightly News and a few more people came aboard, and we said, 'Let's figure it out.' We put it on really quickly and we continue to tweak it."
Holt has been doing the twice-weekly show from his home with the goal of bringing kids the news in a way they can comprehend and digest, which he delivers flawlessly. "It's healthy to have someone who will talk to them in as plain a language as possible and really walk them through what we know and what the coping techniques are for all of us," Holt told the Associated Press.
The show also features some amazing kids and follows stories that show what an impact you can make on the world no matter your age. In one episode, he featured a 14-year-old volunteer from Illinois who is making face shields and PPE for doctors and nurses in his area. In another, a seven-year-old who has been organizing donations for families in need during the pandemic.
Holt does it all with that adorable signature smile (and dimple) on his face and we are so thankful to have his calming presence at a time like this. The man is a legend.
This article was originally published on