9 Easy Letter A Crafts For Preschoolers And Toddlers: No Printer Required!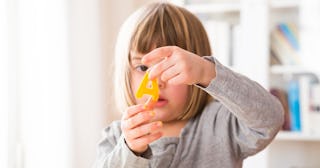 Westend61/Getty Images
If you've got a kid between the ages of three and five (give or take a year or two), you're probably on the hunt for alphabet activities. That's why you're here, right? You know the importance of fostering a love of learning and promoting literacy from an early age. So, you sing the ABCs, read to your kids every night, and point out letters as you go about your day. But because Pinterest is a thing, it's easy to get swept up in the world of pretty printables and elaborate crafts. Those are awesome. We're not disputing that. But if you prefer to keep it simple, we've got just the ticket. Here are a few super-fun letter A crafts to get you started.
Letters, numbers, colors, and shapes — these are a few of the things your child should know by the time they enter kindergarten. It can feel like a lot of pressure teaching them, but it doesn't have to. You can work academics into your routine without much fuss, and your little one will know all they need to know before the first day of school. Really, at this age, most of what they need to know can be learned through play, anyway. And if they already go to preschool? Great! These activities are bonus material to support their current curriculum. Check out our list of easy letter A crafts for little ones.
Looking for more letter crafts for kids? Check out our letter B, C, D, E, F craft pages and get busy.
Easy Letter A Crafts
1. Noodle Art
Kick it old school with this classic craft for preschoolers. All you need is a sheet of construction paper, a Sharpie, and a $1 box of macaroni noodles. Draw an uppercase and a lowercase letter A on the paper and let your kids glue on the macaroni noodles. File this under activities that require no prep and cost almost nothing. You probably already have all the supplies on hand at home. For added fun, use food coloring to give your noodles a little extra pizazz.
Not only is this the perfect opportunity for sensory play, but it also gives kids a chance to work on their fine motor skills. You can change it up by using different colored paper, different types of pasta, and practicing different letters. When your little alphabet artist finishes, hang their noodle A on the fridge and show your little one how proud you are of their artwork!
2. Letter A… With Clay
You may already have modeling clay at home in your kid's art supplies. If you don't, you can even do this letter A craft using a simple papier-mache recipe. The idea is to get your child to use the clay or papier-mache to form 3D versions of words that start with A. Encourage your child to add little elements to each letter that reflect the word they're creating. For the word "apple," they can make the circular part of the letter Ps look like the fruit. Also cool? Once the creations dry, your child can use them as a part of their everyday educational play.
3. Cool Collage
Need another craft your little one can do with inexpensive and easy-to-find materials? Your child may need some help finding and cutting out letters, but the time spent together will be well worth it. Gather up some old magazines (or if you don't have any on hand, put the word out on Facebook — you'll probably find some friends or family members with extras to spare) and a poster board. Hint: Dollar Tree sells posterboard two per dollar. Cut out, or let your child cut out, all the letter As you can find: big and small, every color. You can also cut out objects that start with the letter A. Then, glue them to the poster board. This activity is fantastic for working on both letter sounds and recognition.
4. Rainbow Tracing
To do this activity, you'll either need blank paper and a Sharpie or a printout of a large letter A suitable for tracing. You can make this yourself on a worksheet generator or find a free printable online. Super Teacher Worksheets offer several solid choices. You'll also need a pack of crayons. You can go with a classic rainbow palette or let your child choose a few of their favorite colors.
If you're using a Sharpie and blank paper, start by writing a large letter A — uppercase, lowercase, or both. Once you set up the page, get your child to trace the letter A with their finger. Then, pick a color and trace it with a crayon. Repeat until they've gone through their selected colors. Like the others, this activity is low-prep, low-cost, and can be varied to teach other concepts. It's tactile, colorful, and fun!
5. A is for Airplane
Ah, paper airplanes — the quintessential kid craft. All you need is (yep, you guessed it) paper. Grab a stack and get to foldin'. If you need some inspiration, YouTube is full of awesome tutorials. See whose plane goes the farthest and fastest. Heads up if you're homeschooling: This is an opportune time to include a bit of science in your day, too!
6. Letter A Scavenger Hunt
A great way for kids to get familiar with the letter A is to have a scavenger hunt. Make sure all the items on the list start with A. Here are a few objects they can find in and around the house for the hunt.
Apple/apple juice
Airplane
Art
An anthill
A calendar with the month of April
An acorn
Alarm clock
Avocado
7. Apple stamp art
Get a few apples and cut them in half. Hand one to each child and have them dip the sliced fruit into the paint. Then have them press the apple's face onto a piece of paper. Apple stamping is an excellent way to build their finger and hand muscles since this fruit is easy to hold for this activity. Although it may be a little challenging, the designs they'll make through this fruity approach will help them create the perfect picture. And while they're stamping away, you can remind them that A is for apple.
8. Pine Apple Art
It's easy to tell your child A is for apple, but why not show them? This is a craft you can do even when it isn't apple season! Give your child the chance to turn pine cones into apples. First, go on a nature walk and pick up a few pine cones. Then let your kid dip the bottom in red paint and paint the top part green. Be sure to cut out little green leaves for the stem.
9. Astronaut Helmet
Does your kiddo dream of launching into outer space. Well, they're going to need a space helmet. So, grab a cardboard box and cut a square on one face so they can see out of it. Then paint the box white or whichever color you like. Decorate it with cute stickers and add an extra space vibe by sliding a thin piece of plastic (colored or clear) into the open part of the helmet.
This article was originally published on