Cool As A Cucumber Letter C Crafts For Your Toddlers And Preschoolers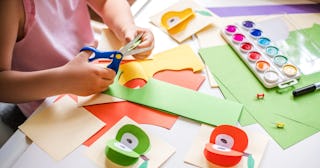 Evgeniia Siiankovskaia/Getty
Teaching toddlers and preschoolers their letters is often tricky business. But it doesn't have to be. Kids learn best through play. So, why do we make it so hard? Well, let's be honest. Parenting isn't easy. Kids definitely don't come with instruction manuals. We don't need to overcomplicate teaching them basic skills though. By integrating educational activities into our child's day-to-day routine, they'll learn their ABCs in no time! How do we do that? One way is to set them up with simple letter crafts. After all, fun and games can be educational. Check out our list of letter C crafts below. And remember, most of the activities in our collection are interchangeable and can be done with any other letter of the alphabet.
ABC activities are a dime a dozen on the internet. The thing is…many of them are complicated, require a ton of supplies, and lots of prep work to set up. Not the ones on this list. The letter C crafts you'll find below are low-prep, require minimal supplies, and are easy to do with your toddlers and preschoolers. Check out our list and let us know what you think!
Looking for more letter crafts for kids? Check out our letter A, B, D, E, F craft pages and get busy.
Letter C Crafts For Toddlers And Preschoolers
1. C is for Cookie
Though not an art project in the typical sense of the word, baking is most definitely a creative pursuit. There's no better way to spend time with kids and incorporate hands-on learning into your day than spending time together in the kitchen. Then, when you're done, you can enjoy the reward of your hard work with a plate of cookies and milk. If you need inspiration, here are a few cookie recipes to try out.
2. Vroom, Vroom, Vroom
Hot Wheels are a quintessential kid toy and a staple in nearly every household. What can we say? Kids love cars. For this next activity, you need nothing more than your child's collection of toy cars and a roll of masking tape. You're going to help your child make a set of tracks throughout your home — living room, kitchen, hallway, wherever you have some open space — with the masking tape for your child to drive their cars on. Masking tape is inexpensive and won't damage your floors, walls, or furniture. This project is fun, keeps kids busy, and is endlessly customizable. It's perfect for a rainy day when you're stuck indoors.
3. Cat Coloring Page
This one is an easy craft that your cat-lovers will enjoy. Check out Scary Mommy's collection of cute cat coloring pages. For a twist on the traditional crayons and paper, give your child some finger paints to decorate their coloring page.
4. The Very Hungry Caterpillar
The Very Hungry Caterpillar is a classic picture book you've probably read with your little one a hundred times. If you haven't, you should definitely add it to your bookshelf. Kids Activities Blog has an awesome tutorial for a no-sew caterpillar costume made from just a few simple supplies. It goes along perfectly with the story. Kids will need some help with this one, but it's a great activity to do together.
5. Muffin Tin Crayon
Here's a craft your child can continue to use long after art time is over. Muffin tin crayons are an easy way to recycle old, broken crayons that would otherwise go in the trash. This is another activity your child will need help with, but they can do quite a bit themselves — just not dealing with the hot oven, obvs. All you do is gather your crayons, break any that aren't broken, tear off the paper, fill a muffin tin with the broken pieces, and bake at 300 degrees for eight to 10 minutes. Let cool when done. You can turn on the oven light so your kids can watch the crayons melt. These chunky crayons are the perfect size for tiny hands.
6. Cup Cake Creations
Here's another muffin/cupcake-themed craft. Grab a bunch of different colored cupcake liners and colorful cotton balls. They should both be around the same size. Glue the cotton balls into each cupcake liner. Then decorate them with glitter, funky paper designs, and pipe cleaners. When the kids are done with their cupcake creations, put them on a tray, and play cupcake shop. You can teach your little one about the letter C along with some business tips!
7. Cup Cow
This is a great way to teach your kiddo that cow and cup start with the same letter. Make sure the cups are white and grab some googly eyes, along with some black construction paper or felt. Cut the felt or paper into circles and glue them onto the cup along with the googly eyes. Then cut out a pink circle for the nose. After everything is dry, your kid can even drink out of their cow cup! But there's one rule: Only food that starts with the letter C can go into the cup, like carrot juice, cheese balls, cake, or cookies. This is a wonderful game that keeps the lesson going.
8. Crab Coloring Pages
That's right — Scary Mommy has you covered with another collection of super-cute, c-themed coloring pages ready for your crafty kid's touch. Not only will your little one get to break out their favorite crayons, but they'll also learn tons of fascinating facts about these crustaceans.
This article was originally published on