10+ Fantastically Fun Letter F Crafts For Toddlers And Preschoolers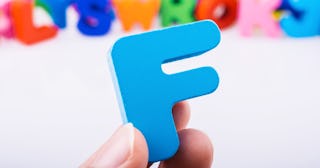 Turgay Koca/EyeEm/Getty Images
Teaching your kids to read can feel like a monumental task. If you're a homeschooling mom, you might be wondering where on earth to start. And if you plan on sending your kids to private or public school, you may want to teach them to read before they go — it'll give them a leg up when they start kindergarten. The first step is to make sure they recognize their letters and know the sounds they make. We're going to show you 10 letter F crafts with that in mind.
Guided hands-on play is the best way for kids to learn anything, including how to read. You can do this by adding educational activities into your routine. Point out letters on street signs. Read the back of the cereal box out loud. Count sticks at the park. Talk about what shapes you see in the clouds. There is the potential for learning everywhere as you go about your day.
So, what are we waiting for? Let's get started learning about the letter F. And if you like these, be sure to check out our letter A crafts, letter b crafts, letter C crafts, and letter d crafts.
Letter F Crafts for Toddlers and Preschoolers
1. Fish Craft for Letter F
This cute video set to upbeat music will teach you and your kids how to make a fish while learning about the letter F. Give it a watch.
2. Fox and Fish Crafts for Uppercase and Lowercase F
ShellyMakes has a fun tutorial using construction paper, scissors, and glue to practice both the uppercase and lowercase letter F.
3. Origami Jumping Frog
Art For Kids Hub is a favorite family channel on YouTube offering easy hands-on art projects for kids, including drawing, painting, and even origami. This jumping frog tutorial is a great way to learn about the letter F and introduce kids to paper crafts.
4. Easy Watercolor Rainbow Fish
If you and your kids want to up the creative ante, here's where to start. The Art Sherpa offers an easy watercolor painting how-to for beginners. She's showing viewers how to paint a rainbow fish — the perfect accompaniment to your lesson on letter F.
5. 3-D Frog Craft For Kids
So Crafty has put together this tutorial using supplies you probably already have on hand to make a 3-D frog. Add this to your lesson plan when teaching the letter F for hands-on, creative fun. Who knows? You might have a watercolor artist in your midst.
6. F Is for Flower
Punk Rock Preschool has tons of fun learning activities for little ones. In this video, kids learn about the letter F while crafting a pretty flower. (Bonus activity: Follow it up with tutorials for drawing a rose!)
7. Easy Fox Craft
The All Kids Network has a quick and easy tutorial on crafting a cute fox for toddlers and preschoolers. What a fun way for kids to learn their alphabet! After all, who doesn't love foxes? Our fox coloring pages would make an excellent addition to this lesson.
8. Spring Flower Card
Celebrate Spring and learn about the letter F all at the same time. This video teaches parents and kids how to craft a sweet flower card for hands-on learning fun.
9. F Is for Frog
Another how-to from Punk Rock Preschool, this video teaches kids all about the letter F with a cute frog craft. And you can keep the amphibian fun hopping right along with our frog coloring pages.
10. How to Make a Fox
The fox is a popular craft choice to go with the letter F. Here is an adorable fox made from an uppercase letter F and a few supplies from your craft stash. Your kids will have a lot of fun with this one!
11. Finger Puppet Show
Make clothes for your child's fingers. You'll need glue, paper, markers, and fabric. Make costumes for characters that start with the letter F, like firefighters, fortune tellers, or fairies. For your firefighter, grab some yellow and red fabric and glue it together. And make a little red hat for the tip of the finger. Add some personality by drawing faces on their fingers in a washable marker. Once everyone's extremities are dressed, put on a puppet show about the letter F!
12. Food Collage
Get a bunch of old magazines and have your child cut out all their favorite foods. Then glue them to a blank piece of paper. Go over the foods that start with F first, and then have your child explain why they chose the pictures they did. To make the assignment even more educational, cut out the paper they're using for their collage into the letter F before they glue their images to it.
13. Funny Faces
Teach your little ones different emotions by helping them make different faces. You're going to need paper plates and tongue suppressor/popsicle sticks. Help them draw four different feelings on each circular piece of paper. When the faces are done, glue the tongue suppressors on the back of them so they're easy to wear.
This article was originally published on