Teach Your Child To Read With Hands-On Letter Activities: Letter G Crafts Galore!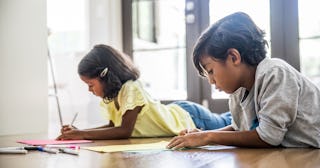 MoMo Productions/Getty
Are you teaching a rising kindergartener how to read? That's no easy feat. If you're hoping to get your little one ready for the first day of school (or you're a homeschool mom and teaching your child to read is proving to be more difficult than you anticipated), we're here to help. Every child is unique and will learn at their own pace, but hands-on activities are always a winning choice. Hands-on activities like arts and crafts reinforce academic learning, promote fine motor skills, and offer the opportunity for sensory exploration. This is a great way to start teaching letter recognition — one of the first building blocks of literacy development. Today we're going to show you some letter G crafts you can do with your toddler or preschooler.
Want more letter crafts for kids? Check out our letter A, B, C, D, E, F craft pages and get busy.
Let's get started.
11 Letter G Crafts For Toddlers And Preschoolers
1. Kids Activities — Easy Letter G Craft
G is for giraffe and this three-dimensional project can be done with materials you already have on hand. Best part? It's an easy spur-of-the-moment afternoon activity when you don't have anything else planned.
2. Creative Craft Box — G is for Giraffe
Also a giraffe, this hands-on papercraft from Creative Craft Box may require some help from a parent, but the end result will wow your child. Be sure to hang it on the fridge!
3. Punk Rock Preschool — Duck, Duck, Goose
In this video, G is for goose and this one won't chase you at the duck pond. All you need are paper plates and a few items from your craft closet and you and your child can make this friendly fowl.
4. So Crafty — Let's Make Some Grapes
We hope you're hungry! So Crafty brings you a deliciously fun tutorial on making grapes out of colored construction paper. This activity is perfect for encouraging your little one's fine motor development.
5. Art for Kids Hub — How to Draw a Garbage Truck
You can't go wrong with Art for Kids Hub. Their videos are always engaging and fun for kids of all ages (parents too!). In this tutorial, kids are learning how to draw a garbage truck.
6. Fun Activities for Kids — Gingerbread Paper Bag Craft for Kids
"Run, run, as fast as you can! You can't catch me, I'm the gingerbread man!" Christmas or not, gingerbread crafts are always in season! Check out this sweet gingerbread paper bag craft, brought to you by Fun Activities for Kids.
7. Punk Rock Preschool — G is for Garden
There's nothing quite like digging your hands in the dirt and reaping the (yummy!) rewards of your labor with a fruit and veggie garden. In fact, that's a wonderful way to get your kids outside, emphasize the importance of eating healthy foods, teach them science, and encourage both fine motor and sensory development. If you want to introduce them to the idea, here's a fun garden-themed papercraft from Punk Rock Preschool to get you started.
8. The Friday Zone — Tissue Box Guitar
Incorporate some music into your day with this tissue box guitar — made almost entirely from recycled materials! It's an easy peasy craft and a memorable way to learn all about the letter G. Play on!
9. Art for Kids Hub — How to Draw a Cute Cartoon Goat
Here's an interesting how-to. Goats aren't necessarily the first animal to come to mind when you think about the letter G, but they sure are cute! Kids may need a grown-up to sit and do this activity with them, but Art for Kids Hub is the perfect parent+child craft channel, so no worries there.
10. Goldfish Crafts
Gather all your happy swimmers for this fishy craft best enjoyed above the water. Make a giant goldfish using simple craft supplies like a paper plate, googly eyes, streamers (or ribbons, if that's all you have laying around), and some orange paint. Et voila! Your little one can have their very own goldfish pal in minutes. Hot tip: this activity is best enjoyed while simultaneously munching on goldfish crackers.
11. Garbage Truck Art
If your child loves to indulge in messy art, this craft is for them. Help them gather their candy wrappers and any other trash they have in their pockets. Then print out a picture of a garbage truck and let them glue their junk and scraps to the top of it. This a great way to teach your kid about recycling, and how anything can be an expression of art.
12. Glue Art
Who said a masterpiece couldn't be done in a minute? There are a million things your kiddo can glue on their paper, so make it into a race. First, slather their piece of construction paper with glue. Then, place many decorative items in front of them like googly eyes, glitter, felt shapes, and more. Give them a minute to cover their sticky paper with art. The first person to finish and have their paper completely covered is the winner!
This article was originally published on